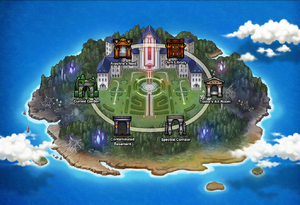 île de Frost, also known as Frosland or Frostland is an island that lies to the south of Alcubra. It is a single island with the Frost family's mansion as its only landmark and houses six dungeons that serve as a tutorial for Edel.
Dungeons in île de Frost do not have portals; instead, arcane circles block dungeon progression until all the monsters in the section of the room the player is in are cleared. Furthermore, partying is not allowed in this continent and pets cannot attack in the dungeons.
Unlocking
Edit
île de Frost does not need to be unlocked for Edel. However, île de Frost cannot be accessed by any other character other than Edel.

: Level 4 ▐ Crest: Cursed Garden


: Level 7 ▐ Crest: Contaminated Basement


: Level 10 ▐ Crest: Spectre's Corridor


: Level 13 ▐ Crest: Traitor's Art Room


: Level 16 ▐ Crest: Dark Library


: Level 19 ▐ Crest: Arachne's Nest

Locations
Edit