Chapter Navigation

Missions
Recommended BP/TAP: 7,100
Dungeon 1st Clear.
Received Damage 18,100 or Less.
Slay the Boss within 1 min 40 secs.
Recommended BP/TAP: 31,200
Dungeon 1st Clear.
Clear within 3 min 50 secs.
Deal 18,620 DPS.
Recommended BP/TAP: 72,900
Dungeon 1st Clear.
Use Party Skills 2 times or less.
When cleared, the heroes HP must be 50% or higher.
Recommended BP/TAP: ???
Dungeon 1st Clear.
???
???
Vampires!
Description
"Ahhh! I'm Dolly... Please save me!"
Dialogue

Arme: A talking bat... Does that mean there really are vampires?


Kyle: Oh man... Do they really capture and eat boys?


Cindy: Of course they don't. It's probably a sorcerer that can turn into a bat.


Arme: Mm... It might be better if they are a vampire instead...

---

Lilia: Help. I've lost my way.


Kyle: Ah! Don't worry. The great Kyle will guide you!


Cindy: Wait... Don't you think something is weird?


Kyle: Weird? What's weird?


Cindy: Considering this mine has been off limits for a long time, do you not find it weird that a girl is here and lost by herself?


Arme: Sigh... Also, look at the bat wings on her head. Not being able to notice that... How will you survive?


Lilia: Tsk! This is why I hate sharp-eyed brats. There's no need to hide anymore. Come out. It's been a while. Let's enjoy the party!

---
???: Baaaa! Please save me-baa!
Talking Bat: Baaa all you want. No one will be coming here to save you.


Dolly: My... blood won't taste good-baa.
Talking Bat: Ha! Don't worry. I'm not picky when it comes to food.


Kyle: Hey you suspicious bat!
Talking Bat: The squirts from before? Seeing as how you're here, you must not value your lives!


Baron Dmitri: Fine. I was just about getting bored with this Ramblin's blood. Time to change the menu to fresh human blood.

Epilogue: Vegetarian
Description
"I'm really a vegetarian!!"
Dialogue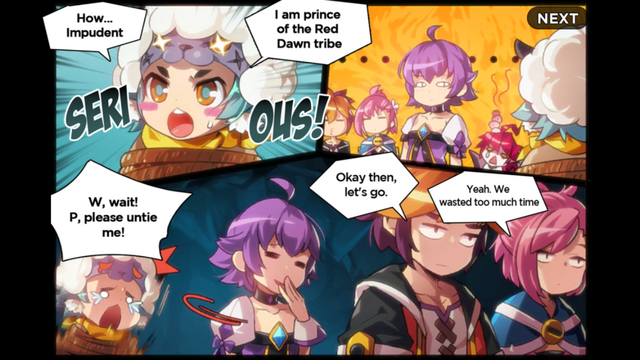 Video
References
Dungeon Navigation
Community content is available under
CC-BY-SA
unless otherwise noted.