Chapter Navigation
Missions
Recommended BP/TAP: ???
Dungeon 1st Clear.
???
???
Recommended BP/TAP: ???
Dungeon 1st Clear.
???
???
Man of Underworld King
Description
"You shine the most when you're next to me."
Dialogue

Amy: What should we do now?


Sieghart: We are surrounded by enemies.


Sieghart: Let's think after we get out of here.

---
Deep Ocean: Stop.
Deep Ocean: Underworld soldiers running away...
Deep Ocean: How can you do this to me?
Underworld Sword Castle: We are very ashamed, Master Jung.
Deep Ocean: Master?
Deep Ocean: Don't call me that.
Deep Ocean: The Queen will soon be my wife!
Deep Ocean: Call me King Jung!
Hwarin: W-Who...


Sieghart: Hm... is he... your fiancé?
Hwarin: Changhae family decided it without talking to me!
Deep Ocean: Don't be embarrassed.
Deep Ocean: Who else would be a perfect fit for you other than the best royal family in underworld?


Amy: You're a stalker!
Deep Ocean: S-Stalker?
Deep Ocean: How dare you say that...


Sieghart: If he's a stalker, I have to defeat him with all I've got.
Hwarin: Please!

---

Amy: Get rid of the stalker!
Deep Ocean: Argh, can't believe this body is looked down by a woman...
Deep Ocean: You'll pay for this!

Meeting Justice Army
Description
"Can you not... be involved with that guy?"
Dialogue

Arme: This isn't the end, right?


Sieghart: Of course. They'll bring their soldiers.


Ronan: Then let's hurry and leave.
Hwarin: But... we didn't find the army yet.
???: You don't have to look further.
Russell: See.
Russell: I'm certain now.
Russell: They're not our enemies.
Russell: Didn't I say that before?
Marcus: But there's a demon among them.
Marcus: It's not bad to be careful.
Russell: But we made Her Highness wait because of our prudence.
Russell: Your Highness! Sorry for making you wait.
Hwarin: You are?
Russell: My name is Russell, a temporary General of Haros Justice Army.
Russell: You came here personally...
Russell: We are very grateful.


Sieghart: What? They were in the village?


Sieghart: How come no one said anything when we asked questions?
Russell: They are all part of the justice army.
Russell: They wouldn't expose our identity to outsiders.
Marcus: And you guys were our guard target.


Lass: You were on guard? Why?
Marcus: For two reasons.
Marcus: First, Rufus brought you...
Marcus: Second, there's a demon among you.


Sieghart: I guess it's reasonable.


Ley: Not all demons are associated with Heitaros!
Marcus: Rufus has been getting requests from high rank officials.


Rufus: ......
Marcus: It's not weird to suspect him to have a connection with Heitaros.
Russell: Hey. How many times did I tell you?
Russell: You don't have to doubt Rufus.
Marcus: General, you never know.
Marcus: There might be a traitor.
Marcus: Anyone can cross the line.
Russell: There is no way Rufus would do that.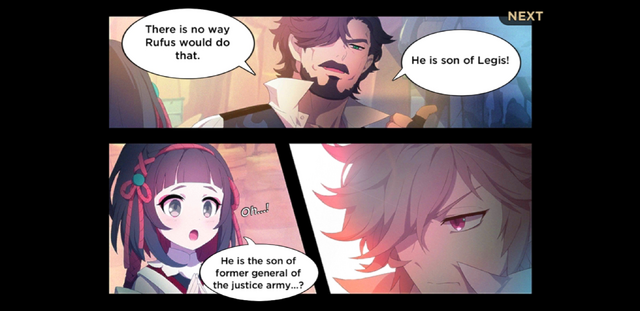 Video
References
Dungeon Navigation
Community content is available under
CC-BY-SA
unless otherwise noted.