— GRAND CHASE —


ELESIS

LIRE

ARME

LASS

RYAN

RONAN

AMY

JIN

SIEGHART

MARI

DIO

ZERO

LEY

RUFUS

RIN

ASIN

LIME

EDEL

VEIGAS

UNO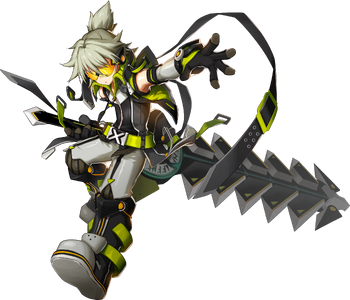 Advancer (also known as Insurgent, Devastator, or Obliterator) is Zero's 4th job. As Zero's will slowly disintegrates, the increasingly exasperated Grandark demands his wielder to get back up and fight, but to no avail. Eventually he loses his consciousness completely, even losing the understanding that he exists to defeat Duel.
As soon as his will deteriorates completely, the Ancient Demon Core within him unleashes its full power, restoring it. Accepting his fate that he was created to defeat Duel, he rises up by himself rather than merely acting because Grandark commands it..
Advancer, meaning "he who moves forward", now shows a changed Zero who no longer relies on Grandark's strength, fighting on his own. His talent as a swordsman reached to a point wherein Zero is still effective in combat even without Grandark to aid him.
Requirements
Edit

It is necessary to be lvl 60 to participate in the 4th Job Promotion.
(Cost 18,000 GP)
Slay 350 monsters within the range of ± 3 above or below level monsters.
(Cost 11,800 Cash)
Game Start
Skills
Taunt
| | | |
| --- | --- | --- |
| | | "You seem overwhelmed. Maybe you should stop?" |
Game End
| Level/Type | Name | Effect |
| --- | --- | --- |
| LVL 4 Special | Zero Domain | Zero transforms Grandark and thrusts it to the ground. Grandark pinpoints the location of up to five enemies and attacks in the form of a spiked ball, exploding after the initial damage is done. The attack is similar to Lass's Shadow Vanish. |
| LVL 4 Special | Terminate | Zero transforms Grandark into a long drill, quickly shredding all the opponents in front of him. Zero retains the ability to move and jump after the activation of the skill. This Special resembles Dio's Onrush. |