— GRAND CHASE —


ELESIS

LIRE

ARME

LASS

RYAN

RONAN

AMY

JIN

SIEGHART

MARI

DIO

ZERO

LEY

RUFUS

RIN

ASIN

LIME

EDEL

VEIGAS

UNO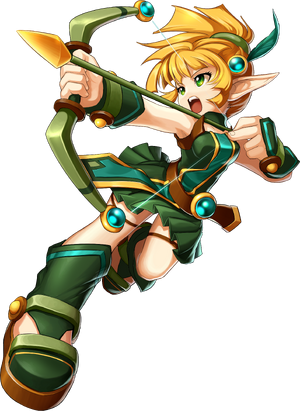 LIRE




Archer





ST




Crossbowman




Arch Ranger




Nova
Archers specializes in powerful long-range bow and arrow attacks, and can move quickly and stealthily. Her only downside is that she is easily pursued by Knights; however, she can overcome this vulnerability by using her environment to her advantage, waiting for the perfect opportunity to strike her foes down with a vital arrow shot. Archers are designed for players who are skilled at controlling characters with precision. If Archer is guarded by another Knight in combat, she'll make her enemies realize how foolish it was to confront her. Archer's most remarkable special ability is her Double Jump.
Unlocking
As a first class, Archer does not need to be unlocked; Lire starts as this class.
Quotes
Game Start
Skills
Taunt
Counter
Game End
| | | |
| --- | --- | --- |
| | | "I was going to take it easy, but, oh well!" |
Basic Movements
Lire's arrows arc down slightly when fired. However, she can aim most of her attacks at an angle, from straight up to nearly straight down. All her arrows have infinite range.
Keystrokes
Name
Effect
Basic Combo
Lire fires five individual arrows. At the beginning of the combo, she can aim using the or keys.
++
Critical Attack
In the middle of her combo, Lire slides in one direction while firing an arrow to the opposite direction.
++
Double Attack
At the end of her combo, Lire slides in one direction while firing an arrow to the opposite direction.
+
Jump Attack
Lire jumps up and fires an arrow that arcs downward.
+
Double Jump
While in midair, Lire performs a second jump.
+
Aerial Heel Kick
After a double jump, Lire drops straight down with a kick.
Dash
Lire dashes forward while turning her body in the other direction.
+
Dash Attack
While dashing, Lire fires an arrow in the opposite direction.
+
Grab
Lire grabs her opponent and flips them.
(Note: Both players are invincible throughout the animation.)
(Note: Only works in PvP; Dungeon monsters cannot be grabbed.)
(Note: Due to lag, it may not work, or may intercept the opponent's attack/skill.)
Skills
Level/Type
Name
Effect
LVL 1 Basic
Not to be confused with the Arch Ranger's Big Shot.

Lire shoots five arrows simultaneously. Can be aimed.

LVL 1 Purchased


Attack Swing

Lire launches the target upward with the swing of the bow. Can be bought for 500 Cash for 500 uses.
LVL 1 Purchased


Eagle Sight

Doubles Lire's field of vision for 30 seconds. Can be bought for 500 Cash for 500 uses.
LVL 2 Basic
Lire shoots multiple basic arrows upward which rain back downward on the sides.
LVL 3 Basic
Lire shoots out a volley of arrows which spiral over the entire screen. Despite being normal arrows, they cannot be blocked.
LVL 3 Purchased


Flame Arrow

Lire shoots five flaming arrows simultaneously that deals massive explosive damage on impact. Can be bought for 700 Cash for 500 uses.
LVL 4 Special


Sudden Raid

Lire summons two elven archers who flank her side and shoot spiraling arrows similar to her Arrow Storm skill. Lire then performs her Arrow Rain skill to barrage her enemies with arrows.
LVL 4 Special


Shooting Star

Lire shoots an charged arrow diagonally above her, which turns into a portal that drops several arrows below; opponents caught in the rain will be marked by a wind seal that will explode after a short moment.
Trivia
Archer's "grab" is a German Suplex, a popular wrestling move.
Archer is the only class that has two Cash 1st Grade Skills but no Cash 2nd Grade Skill.
The Archer class appears to be semi-mechanical as Magic Missile takes the form of a missile with no notable magic properties.
Lire's Shooting Mode was based off of the Elsword character Rena's Siege Mode.
The Elsword character Rena has an attack called "Freezing Arrow" where she shoots a single frost arrow in a linear path, hitting and freezing up to two enemies.
The Elsword character Aisha has an attack called Magic Missile, which shoots a sphere that constantly follows its opponents for a short time.
The Elsword character Chung's Artillery Strike was based off of Magic Missile.
Some attacks made by the Elsword character Chung has identical names compared to Lire's.

Chung's "Shooting Star" fires twelve homing missiles.
Chung's "Head Shot" fires a single shot that pierces through enemies.
Community content is available under
CC-BY-SA
unless otherwise noted.