Description
"God's avatar and controller of flames."
Main Info
Name: Balzac
Age: Unknown
Hobbies: Praying
Likes: Voice of God
Dislikes: Being weak
The God who created Kricktria had returned to find the world enveloped by ancient malignant spirits. He expunged the spirits from the world and then created avatars of himself to help stabilize the dimension.
Though these avatars were not gods nor humans, they each had their own will along with individual abilities and personalities. Once the world had been deemed safe, the god left for a different world. Over time, the avatars lost their power and went into resting. 
As one of the god's avatars, Balzac was created to repel the malignant spirits from the underground world. To melt the hard stone-like skin of the malignant spirits in the underground world, Balzac was created to be able to use powerful flames. 
Of all the avatars, Balzac has the most aggressive and destructive personality. Though he is currently dormant, based on the legend that has been passed down, after putting many people in crisis, an unknown hero had him sealed deep within the mines.
Acquisition
Wizard's Labyrinth: Hero's Room Clear Reward.
Annihilation: Annihilation S Hero Select Ticket.
Hero's Tower: Hero's Tower Rank 5 Clear Reward.
Shop: Can be purchased in Prana Shop.
Fusing Heroes: Acquire randomly via Hero Fusion.
Treasure Chest: Can be acquired from Platinum Chest.
Treasure Chest: Can be acquired from Diamond Chest.
Shop: Can be acquired from Summon Shop.
Attributes
| | Max Health | Physical Attack | Physical Defense | Magic Defense |
| --- | --- | --- | --- | --- |
| Base | 7695 | 3114 | 1612 | 879 |
| +12 | 11938 | 4831 | 2501 | 1364 |
| Max | 17232 | 6973 | 3610 | 1969 |
Skills
ACTIVE
Skill Icon
Name
SP
Cooldown
Description
Hellfire
2
12 sec(s)
"As you charge cause nearby flames"

Balzac charges towards the designated location to deal 123.6% of physical attack damage and creates 'Hellfire' around him for 5 seconds that will deal 30% of physical attack damage per second to surrounding enemies.

[Additional Effect]
For 5 seconds after casting the skill, attack increases up to a maximum of 50%, proportionate to the time.

Flame Sword
2
20 sec(s)
"Charge towards an enemy and deal great damage"

Charge towards an enemy and deal 369% of physical attack damage.

SPECIAL
Soul Hellfire
40
60 sec(s)
"Charge towards an enemy to deal great damage and set them on fire"

Charge towards an enemy and deal 2,240% of physical attack damage and then return. For 10 seconds, the enemy will be covered in 'Hellfire' and will inflict a maximum of 224% of physical damage over time to nearby enemies.

PASSIVE
Overpowering Existence
N/A
N/A
"Inflict great damage to enemies with low HP"

To enemies with HP lower than 40% inflict a 1.5x upgraded attack damage.
Evolution
4★
5★
6★
Crimson Evil
붉은 마수
Flame Destroyer
화염의 분쇄자
Flame Sword
화염검
Base
x10
x40
Recommended Sets
Recommended Accessories
Recommended Traits
Skill Cooldown Reduction + Base Attack Damage Reduction + Skill Damage Reduction
LVL 4/5
LVL 4/5
LVL 4/5
DISCLAIMER: These sets of equipment are purely based on the varying opinions in the Grand Chase community. Recommendations will always change as the game expands. This section only serves as a model for others to consider and players are encouraged to customize their build.
Collections
Avatars of God
When the god created Kricktria, he removed the ancient malignant spirits that covered the world and created avatars of himself to help stabilize the dimension.

6★ Poseidon

6★ Balzac

6★ Dark Nephilim
Completion Reward: x450
Huh? It's Human?!
After evolving them, they became human!

6★ Pepe

6★ Balzac

6★ Rares
Completion Reward: x300
As a boss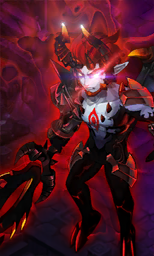 Corrupted Balzac can be fought as the second boss in Epilogue 1.7: Fire and Ice.
Attacks
As the Corrupted Balzac, he will put a barrier around himself and focus for 8 seconds. If the player successfully removes all barriers, Corrupted Balzac will launch a weak attack. However, if the player fails to remove all the barriers, Balzac will launch a powerful attack.
Corrupted Balzac will also apply a 'Flame Lord' debuff stack to nearby enemies once all 'Frostbite' debuff stacks are removed and damage them over time. 'Flame Lord' increases damage dealt by Corrupted Poseidon's 'Ice Pillar' and Corrupted Belile's 'Ice Void' summon spell per stack.
Dimensional Chasm
Dark Balzac takes the appearance of 'Corrupted Balzac' in his Chasm and has his received magic damage and skill damage decreased by 40% then his physical damage given is increased by 80%.
Trivia
Balzac's character portrait is based on his final evolution, Flame Sword.

Some cutscenes showed him as either Crimson Evil or Flame Destroyer, suggesting that those are his original forms.

As stated by Mamin in Act 4.3: Everlasting Love, Balzac is not a demon despite having such traits.
Gallery
Main article: Grand Chase Dimensional Chaser/Gallery
Videos
Sprites
Quotes
Voice-over
"Burn! Burn! Burn!"
"Are you afraid?"
"The blaze inside me has not yet been extinguished!"
"I will make you realize what true pain is."
"I can kill them completely on my own!"
"Toss aside the weak ones!"
"My body is burning to no end!"
---
"I can kill them all by myself."
---
"The blaze inside me has yet to be extinguished!"
"My body will burn for eternity!"
Speech Balloons
"This boring job will be finished quickly."
"I brought back some scraps from the burning ashes."
"Upgrade me, human!"
"Evolve me, human!"
"Awaken me, human!"
"Prestige me, human!"
"Select my Trait, human!"
"Transcendence Awakening me, human!"
References
Rank S


Hanout

Rasel

Belile

Tarragon

Balzac

Olivia

Cleo

Sachi

Dark Nephilim

Charon

Dullahan

Poseidon

Captain Boar

Bergamot

Turmeric

Sage

Sofia

Gaian

Mecha Rocco

Nachoel

Tacoel

Flaune

Dr. Molly

Briel

Varonas

Kalissa

Fermat

Agios

Nia

Narushi

Tevez

Berri

Lulu

Yulia

Favian

Vega

Altair

Carnero (W5)

BF

Karp

Hyde
Community content is available under
CC-BY-SA
unless otherwise noted.