Description
"The lightning king of destruction."
Main Info
Name: Belile
Age: 40
Hobbies: Weight training
Likes: Heitaros
Dislikes: Decanee
Though Belile was born to a demon family of Hardliners faction, his family's power was weak which made it difficult to succeed in a society that focused on bloodlines. Using his powerful combat abilities as a foundation, he lived each day proving himself to others. However, success did not come easy.
In the end, it was Heitaros that recognized Belile and made him his subordinate. Belile understood that Heitaros acknowledged him for his skills and not his background and this he became deeply loyal. Once Heitaros was fully resurrected and came into power, Belile would also stand at the core of that power and would finally be able to flatten the noses of all those that had looked down on and underestimated him. 
Due to his birth into a worthless family, he has a complex regarding where people are from and has a strong abhorrence and contempt for those that are not demons.
Acquisition
Wizard's Labyrinth: Hero's Room Clear Reward.
Annihilation: Annihilation S Hero Select Ticket.
Shop: Can be purchased in Prana Shop.
Fusing Heroes: Acquire randomly via Hero Fusion.
Treasure Chest: Can be acquired from Platinum Chest.
Treasure Chest: Can be acquired from Diamond Chest.
Shop: Can be acquired from Summon Shop.
Attributes
| | Max Health | Physical Attack | Physical Defense | Magic Defense |
| --- | --- | --- | --- | --- |
| Base | 7695 | 3114 | 1612 | 879 |
| +12 | 11938 | 4831 | 2501 | 1364 |
| Max | 17232 | 6973 | 3610 | 1969 |
Skills
ACTIVE
Skill Icon
Name
SP
Cooldown
Description
Blitz Axe
2
20 sec(s)
"Use lightning to strike down on enemies"

As Belile charges his lightning, he will jump into the enemies and strike the ground to deal with 120% of physical attack damage. The plasma remaining on the ground will deal up to 134.4% of maximum physical attack damage for 7 seconds.

Snyder Storm
2
22 sec(s)
"Gather and slash all nearby enemies"

Using the spinning force of his ax, Belile will drag his enemies together for 2 seconds and slash them to deal 246% of physical attack damage.

SPECIAL
Finish Blitz Axe
40
69 sec(s)
"Strike the ground with powerful lightning to deal great damage"

After charging up the lightning to the maximum, Belile will strike the ground to deal with 560% of physical attack damage to enemies in a wide range.

PASSIVE
Supercharge
N/A
N/A
"When a skill is used, attack speed increases for a short duration"

When a skill is used, you become electronically charges, and for 5 seconds basic attack speed doubles and you become immune to all conditions.
Evolution
4★
5★
6★
Greedy
탐욕의
Sovereign of Malice
악의 군주
Tyrant
폭군
Base
x10
x40
Recommended Sets
Color
Name
2 set is equipped
4 set is equipped
Power of Anger
Skill Cooldown Reduction 4.00%
When using skills, acquire 'Power of Anger' effect.

(Can stack up to 10 times)

[Power of Anger]
For each stack, Attack Damage increases by 2%, and Damage Received reduces by 2%.
Recommended Accessories
Recommended Traits
Critical Chance Increase + Skill Cooldown Reduction + Skill Damage Increase
LVL 4/5
LVL 4/5
LVL 4/5
DISCLAIMER: These sets of equipment are purely based on the varying opinions in the Grand Chase community. Recommendations will always change as the game expands. This section only serves as a model for others to consider and players are encouraged to customize their build.
Collections
Belile & Commanders
The feared Sovereign of destruction, Belile and his four commanding officers. Their fighting power is second to none!

6★ Belile

6★ Rasel

6★ Hanout

6★ Marjoram

6★ Fennel
Completion Reward: x650
As a boss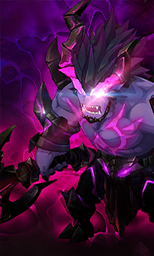 Belile can be fought as a boss in Act 7.9: The Final Battle. He reappears as 'Corrupted Belile' in Epilogue 1.7: Fire and Ice.
Attacks
Belile utilizes the same attacks he has as a playable character. As the Corrupted Belile, he will summon Fire and Frost Voids near him. If party members are hit, Void won't be summoned.
Dimensional Chasm
Dark Belile takes the appearance of 'Corrupted Belile' in his Chasm and has his skill cooldown reduced by 30%.
Mercenary Office
Corrupted Belile is one of the Mercenaries that can be equipped by the Guild Master and Co-Master.
| Mercenary | Cost | Use Count | Cooldown | Description |
| --- | --- | --- | --- | --- |
| LVL 1/10 | 35 | 3 | 1 sec(s) | Corrupted Belile will be summoned at a designated location to deal damage. Drag nearby enemies to slash them and deal 400% of damage. |
Trivia
Belile's character portrait is based on his final stage evolution, Tyrant.
The name Belile is a variant of Belial which means "worthless" in Hebrew.
In his sprites, Belile has only four fingers in each of his hands.
Gallery
Main article: Grand Chase Dimensional Chaser/Gallery
Videos
Sprites
Quotes
Voice-over
"Insignificant fools... Kneel before me!"
"One day, Heitaros will be the one to rule the world!"
"Though our family isn't noteworthy, we are the best when it comes to the battlefield!"
"Once Lord Heitaros is resurrected, I will destroy those who underestimated me."
"No matter what... I will prove my worth in battle!"
"Decanee! How dare you..."
---
"Useless fools... I will handle it myself."
Speech Balloons
"This is nothing special. I will handle it quickly."
"Hmph. That was nothing special."
"Quickly upgrade me!"
"Quickly evolve me!"
"Quickly awaken me!"
"Hurry and Prestige me!"
"Hurry and select my Trait!"
"Hurry and Transcendence Awakening!"
References
Rank S


Hanout

Rasel

Belile

Tarragon

Balzac

Olivia

Cleo

Sachi

Nephilim

Charon

Dullahan

Poseidon

Captain Boar

Bergamot

Turmeric

Sage

Sofia

Gaian

Mecha Rocco

Nachoel

Tacoel

Flaune

Dr. Molly

Briel

Varonas

Kalissa

Fermat

Agios

Nia

Narushi

Tevez

Berri

Lulu

Yulia

Favian

Vega

Altair

Carnero

BF

Karp

Hyde
Community content is available under
CC-BY-SA
unless otherwise noted.