It has been requested that image(s) be added to this page.
The Black Tempest is the mini-boss of Victor's Fortress. It identical to Aegis Knight's summoned construct, but with more black coloring and slightly larger.
Attacks
It has three attacks. It can sweep its lance forward, charges forward and stabs, or project an aura around it.
Trivia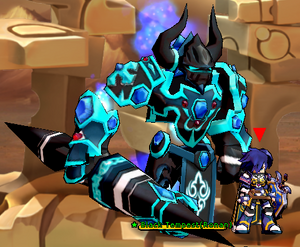 Aegis Knight has two skills that involve the Black Tempest:

Tempest Slayer - The summoned Black Tempest charges forward with its lance and then unleashes a powerful damaging aura around itself before vanishing.
Hell Slayer - The summoned Black Tempest fights alongside its summoner, which is AI controlled and can move and attack on its own similar to Ley's summons.
Community content is available under
CC-BY-SA
unless otherwise noted.