— GRAND CHASE —


ELESIS

LIRE

ARME

LASS

RYAN

RONAN

AMY

JIN

SIEGHART

MARI

DIO

ZERO

LEY

RUFUS

RIN

ASIN

LIME

EDEL

VEIGAS

UNO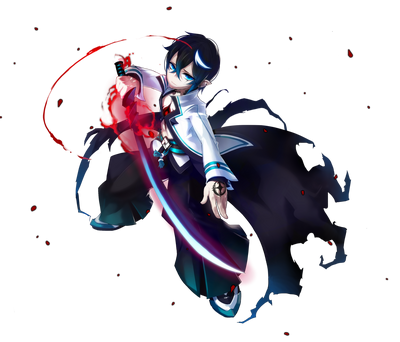 Enhancement
Edit
[Special] Full Bloom
Edit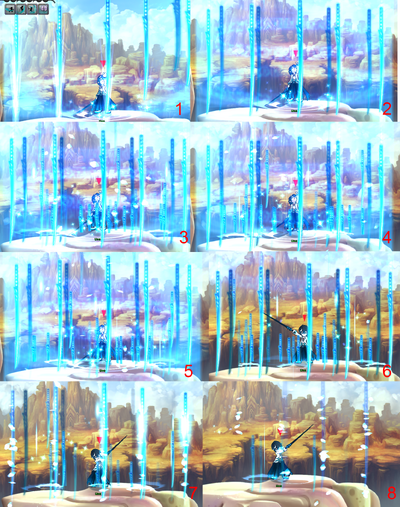 Required Level: Lv 15
SP: 0
Requires: N/A
Cooldown: 45 seconds
MP Consumed: 130
Info: Uno releases his 5 large katana illusions with infinite daggers falling, dealing maximum damage and then turning the environment into blue for a short period of time. In this state, Uno is invisible to all enemy damage while the skill is activated.
[Special] Blood Flower
Edit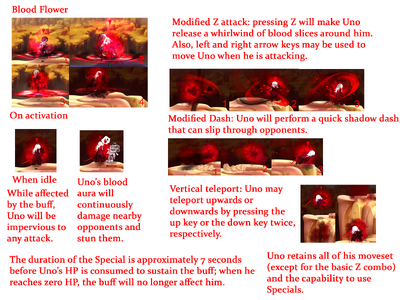 Required Level: Lv 15
SP: 0
Requires: N/A
Cooldown: 45 seconds
MP Consumed: 130

Info: Uno releases his inner blood, turning him into an demonic avatar with a blood aura that deals damage to nearby opponents. In this state Uno is invincible, but he will lose HP over time; when Uno reaches FATAL status, the special skill effect will wear off, turning him back to normal. In addtion, Uno can still move and attack. If Z is pressed, instead of the Basic Combo, Uno will attack with a whirlwind of blood slices around him, and he can also move left or right with the arrow keys while performing this attack. All the other moves are not altered by this Special. Also, Uno will perform a shadow dash when dashing and can teleport himself upwards or downwards by pressing ↑↑ or ↓↓.