— GRAND CHASE —


ELESIS

LIRE

ARME

LASS

RYAN

RONAN

AMY

JIN

SIEGHART

MARI

DIO

ZERO

LEY

RUFUS

RIN

ASIN

LIME

EDEL

VEIGAS

UNO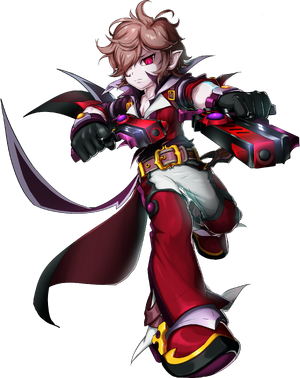 Bounty Hunters are warriors of the Underworld, held responsible for chasing down the evil souls that might escape from the Underworld's prison and flee back to Aernas. Bounty Hunters have special abilities that allow them to either send the refugee back to the Underworld, or exorcise them completely.
Bounty Hunters wield dual handguns, or Eyeteeth, and have a high amount of speed. They are known for their exceptional mid-range attack and close-range attacks, allowing easy playing for first timers with intuitive control and various connected skills.
Among the most famous of Bounty Hunters was the father of Rufus and Lass, Legis. However, while he is considered a hero in the Underworld, he is hated by Rufus, who taught him the meaning of betrayal. Rufus never forgave his father for leaving and started to hate him even more when he discovered that he had another child, a hybrid, with a mortal.
Rufus came to Aernas only to find him trapped as a freak in a circus. Disgusted by the weak and pathetic creature who was his half-brother, he abandoned him.
To clear any memory about his father, Rufus decided to become an even more famous and popular bounty hunter than him, taking the position that was once his father's. Armed with his pistols, the Eyeteeth, Rufus began accepting the most dangerous contracts, chasing the most powerful spirits he could find. This obsession eventually lead him back to the world of Aernas, when the evil spirit of the Ringmaster and his Nightmare Circus escaped from the Underworld.
While chasing the creatures of Circus, Rufus finally realized the other spirits had been killed by the power of the "Blue Flame", a mystical energy that was a characteristic of his father. Determined to find that source of power, it came as a surprise to Rufus that it was not his father responsible but his half-brother, now much more powerful than when he last saw him.
Quotes
Game Start
| | | |
| --- | --- | --- |
| | | "Darkness will consume you." |
| | | |
| --- | --- | --- |
| | | "I shall lead you to death." |
When Attacking
Skills
Taunt
| | | |
| --- | --- | --- |
| | | "Already exhausted? Heh... My, you're a fool." |
Counter
| | | |
| --- | --- | --- |
| | | "How can this be?... Ugh..." |
Game End
| | | |
| --- | --- | --- |
| | | "That wasn't even worth my bullets." |
| | | |
| --- | --- | --- |
| | | "You can scream at Death's door all you want." |
Basic Movement
| Keystrokes | Name | Effect |
| --- | --- | --- |
| | Basic Combo | Rufus shoots once, then performs a somersault kick, and ends off with an uppercut swing with his pistols. |
| | Shot Combo | In the middle of his combo, Rufus fires his pistols multiple times. These shots in the combo do not stun the opponent. |
| | Jumping Shot | In the middle of his combo, Rufus teleports above and behind his opponent then fires his pistols diagonally downward numerous times. |
| | Reverse Jump Shot | In the middle of his combo, Rufus dives backward and fires his pistols diagonally upward numerous times before ending off with a spinning kick. |
| | Shadow Attack | In the middle of his combo, Rufus slips behind his target via shadow silhouette and ends with a swing from his pistols. |
| + | Jump Attack | Rufus jumps up and fires diagonally downward. |
| | Dash | Rufus dashes forward. Holding down the key causes him to run. |
| + | Air Dash | After jumping, Rufus dashes in midair. |
| + | Dash Attack | While dashing, Rufus fires his pistols in both directions once. |
| + | Grab | Rufus grabs his target and slashes them with his Nether Blade then performs a finishing shot with his Eyeteeth. |
Skills
| Level/Type | Name | Effect |
| --- | --- | --- |
| LVL 1 Basic | Pulverize | Rufus fires at his target, then performs a spinning kick before firing again. |
| LVL 2 Basic | Twin Tooth | Rufus fires two piercing bullets followed by a more powerful bullet. |
| LVL 3 Basic | Make It Rain | Rufus shoots upward into a dark void, causing thousands of bullets to rain down onto an area around him. Inflicts massive damage on enemies and has a good vertical range. |
| LVL 4 Special | Explosive Shot | Rufus tosses six stick grenades into the air and fires at all of them, causing them to explode in the area around him. Then various target marks appear on the map and after 1 second an explosion occurs at the marked spot. |
| LVL 4 Special | Final Shot | Rufus charges and shoots a piercing bullet that leaves a trail of explosions behind. |
Trivia