— GRAND CHASE —


ELESIS

LIRE

ARME

LASS

RYAN

RONAN

AMY

JIN

SIEGHART

MARI

DIO

ZERO

LEY

RUFUS

RIN

ASIN

LIME

EDEL

VEIGAS

UNO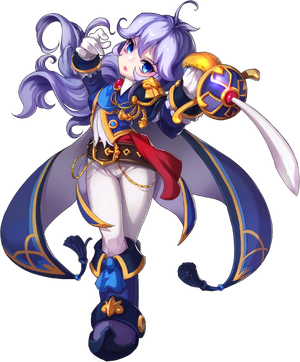 When Edel was younger, she was known for her generosity and good heart. Everyone considered her delicate and fragile - just like the young lady she should be, so for many, it was a shock when she enlisted in the army of the Knights of Serdin.
Amid the military environment full of political intrigue and archaic thoughts, Edel could not afford to look weak, even for a moment. So she had to set aside her sweetness and kindness and adopt a stern and cold attitude, even if acting this way hurt her on the inside. After all, her feelings were second to the honor of her family. If Edel failed, it would be the ultimate verdict for others that the Frosts were nothing more than a decadent and outdated family that had no place or voice in a society dominated by magic.
Edel proved everyone who thought this way wrong. The owner of an iron will and an unbeatable determination, she still maintained an incredible dexterity in combat, wielding her rapier with mastery and surprising everyone with the speed with which she could use in conjunction with her pistol, the flintlock. Edel quickly rose in the ranks of the army, thus reaching the rank of Captain.
While she managed to prove the value of her family, Edel knew from that moment she needed to police herself even more. Any sign of weakness or insecurity would be used by those who still felt envious of the Frosts. And, as hard as it would be to carry herself for most of her time as a woman of ice, Edel knew she could always go back to being a happy and gentle young lady when she was in the comfort of her home in île de Frost alongside her best friend and twin brother, Adel.
Unlocking
Edit
As a first class, Captain does not need to be unlocked; Edel starts as this class.
Game Start
| | | |
| --- | --- | --- |
| | | "For the glory of House Frost." |
Skills
Taunt
| | | |
| --- | --- | --- |
| | | "There is no escape for you." |
Counter
Game End
| | | |
| --- | --- | --- |
| | | "My resolve shall not falter." |
Basic Movements
Edit
Keystrokes
Name
Effect
Basic Combo
Edel leads with a stab, swings twice and stabs twice, and finishes with a firm thrust.
+
Critical Attack
Edel sweeps in a downward arc.
+
Double Attack
Edel sweeps in a downward arc.
+
Jump Attack
Edel swings downwards.
Dash
Edel dashes forward. Holding down the key causes her to run
+
Air Dash
After jumping, Edel dashes in midair.
+
Dash Attack
Edel delivers two thrusts forward.
+
Grab
Edel pushes her opponent and delivers a plethora of slashes before throwing the opponent away with an uppercut slash.
(Note: Both players are invincible throughout the animation.)
(Note: Only works in PvP; Dungeon monsters cannot be grabbed.)
(Note: Due to lag, it may not work, or may intercept the opponent's attack/skill.)
| Level/Type | Name | Effect |
| --- | --- | --- |
| LVL 4 Special | | Edel hides in the shadows of the moon and binds five opponents with an arcane symbol, then she descends with a majestic slash that slices the image of the moon in half. Every binded opponent is also hit by a verticat slash that cuts them into two pieces. |
| LVL 4 Special | Phantom of Blizzard | Edel summons an arcane circle and charges through it, encasing every opponent in the path in a icy crystal that shatters after Edel makes a gesture at the climax of the special. |