— GRAND CHASE —


ELESIS

LIRE

ARME

LASS

RYAN

RONAN

AMY

JIN

SIEGHART

MARI

DIO

ZERO

LEY

RUFUS

RIN

ASIN

LIME

EDEL

VEIGAS

UNO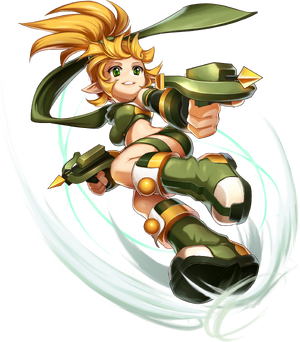 Lire




Archer





ST




Crossbowman




Arch Ranger




Nova
Crossbowmen use dual crossbows to rapidly fire multiple shots, and can move extremely fast. They can jump to great heights depending on the player's skill, and can use visually breathtaking special abilities such as Fan Shot, Dive Bombing, and Beat Rush.
Requirements
It is necessary to be level twenty (20) to be able to participate in Second (2nd) Job Promotion.
"Those monsters are destroying the nature's balance. Can you defeat them and restore the balance? If you do, I'll give you a nice present."
- Elven Leader -
GP
(Cost 200 GP )
Part 1
Run the Marsh of Oblivion once. Even if you don't successfully pass the dungeon, you'll still complete the mission.

Note: Entering the dungeon and leaving immediately does not count as "running". It only counts if the dungeon is completed or failed.
Part 2
Part 3
Part 4
Slay 100 monsters within the range of ± 2 above or below level monsters.
Cash
(Cost 2700 Cash)
Quotes
Game Start
| | | |
| --- | --- | --- |
| | | "Aw, it looks like I may win again~" |
Skills
Taunt
| | | |
| --- | --- | --- |
| | | "It looks like you guys need more training." |
Game End
Basic Movements
Unlike Lire's other classes, her projectiles do not stun and therefore do not invoke Arrow Defense nor Berserk. However, they travel a fairly short distance as opposed to soaring across the entire field.
Keystrokes
Name
Effect
Basic Combo
Lire fires a volley of bolts. At any point of the combo, she can aim using the or keys.
++
Critical Attack
In the middle of her combo, Lire cartwheel rolls while firing bolts in the opposite direction.
++
Double Attack
At the end of her combo, Lire cartwheel rolls while firing bolts in the opposite direction.
High Jump
Lire jumps up very high into the air, almost equal to a double jump.
+
Jump Attack
Lire jumps up and fires bolts to both her sides.
++
Rainstorm
Lire jumps up, flips and fires bolts directly to the ground. Mashing + makes her quickly fire more bolts, while remaining in the air.
+
Rapid Descent
After jumping, Lire quickly descends to the ground.
Dash
Lire performs a cartwheel roll.
+
Dash Attack
Lire performs a cartwheel roll while firing bolts in the opposite direction.
++
Somersault Kick
Lire performs a cartwheel roll and then performs a somersault kick upward, knocking the target into the air.
+
Grab
Lire stomps on her opponent.
(Note: Both players are invincible throughout the animation.)
(Note: Only works in PvP; Dungeon monsters cannot be grabbed.)
(Note: Due to lag, it may not work, or may intercept the opponent's attack/skill.)
Skills
| Level/Type | Name | Effect |
| --- | --- | --- |
| LVL 1 Basic | | Lire fires 4 bolts to the left and to the right in a fan formation. Can be aimed with the or commands. |
| LVL 1 Purchased | | Lire performs a simple kick that knocks opponents upward. Can be bought for 500 Cash for 500 uses. |
| LVL 2 Basic | Beat Rush | Lire kicks forward a straight distance as if her whole body were an arrow. |
| LVL 3 Basic | Dive Bombing | Lire fires a horizontal piercing bolt forward that travels at a fair distance at high velocity but slows down as it hits the enemy to allow multiple hits in. |
| LVL 4 Special | Catastrophe | Lire summons a glyph a fair distance away from her that traps enemies who come into its range. She then fires a series of rapid bolts to push her target into the glyph, where upon an explosion of the glyph's core causes a storm of arrows to burst outwards in all directions. |
Trivia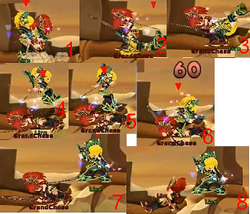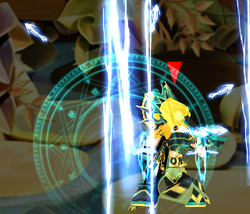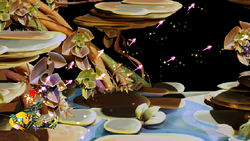 Although Crossbowmaiden may have been a more appropriate term, Crossbowman is a unisex title. The same goes for Spearman.
Crossbowman is Lire's only job that drifts away from using the standard variation of the a bow.
In the Season 3 Revamp for Crossbowman, her grab consisted of her instantly flipping her opponent and then stomping on them in just two seconds, which is under the usual grab animation length, allowing her to move as her foe attempts to recover, only to fall down again. The grab was later reanimated, rebalanced, and extended, preventing her from moving early and severely delaying the opponent.
Before the Season 3 Revamp, Crossbowman's second grade skill was named Dance Tempest or Beat Rush, which consisted of her firing numerous bolts in all directions while performing a specific movement.
Before the Season 3 Revamp, Crossbowman's third grade skill was named Harpy Hunt Shot or Dive Bombing, which consisted of her diving backwards while releasing numerous bolts into the sky in which a Harpy will fall in front of the Crossbowman before she moved which deals massive damage on impact.
Crossbowman is Lire's only class who has limited firing range and different aim control compared to her other classes.
The Elsword character Rena's Fatality was based off of the animation of Beat Rush.
Community content is available under
CC-BY-SA
unless otherwise noted.