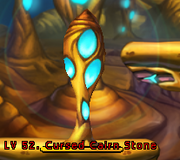 Cursed Cairn Stones (Mana Stone in foreign, and referred as the MP Eater Stick by players) are unique to Valstrath. They have the ability to control the essence of Mana.
The Cairn Stones are monsters that do not attack; instead they drain the MP of players standing close to it. A player needs to destroy the Stone, as it is considered a monster; otherwise, players will not be able to move on to the next stage. Once the stone is destroyed, it leaves behind a blue sphere that lasts for a couple seconds before disappearing. Touching the sphere will regain an approximate amount of absorbed MP.
Trivia
There are Weapons modeled after the Cairn Stone.
There are also accessories of different-rank Cairn Stones.
Despite that this monster is "obsolete" like the Pumpkin Head, it in fact, still needs to be "cured" to progress.
Community content is available under
CC-BY-SA
unless otherwise noted.