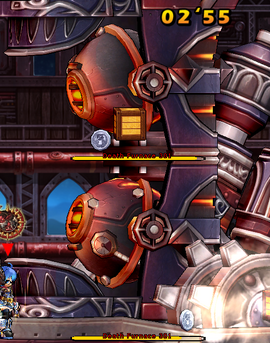 The Death Furnace is found only in the secret stage of the Monster Train 301, which can only be accessed if the player has a 301 Golden Ticket. When Casey Bones is defeated, the furnace swallows the conductor alive and goes on a rampage, swallowing up everything around it.
The Death Furnace is divided into two parts, the cannon (top), and the furnace itself (bottom), and the battle against the Death Furnace is split into three parts. First, the furnace must be destroyed, followed by the cannon. After doing so, both bosses will revive and the player must destroy them both simultaneously, similar to the fight with the Dark Storm and Furious Storm in the Forest of Life. Should the player wait too long to kill the other part of the engine, the one they destroyed prior will repair itself to full life and rejoin the battle.
In this fight, the map itself is also a hazard. The fight with Casey Bones has heavily damaged the train and sections of the walls have been blown off, allowing wind to buffet the arena. The wind that acts against the character increases in strength in accordance to the chosen difficulty of the dungeon.
The piping along the walls has also been damaged, causing the damaged pipes to release jets of steam and inflicting the Haste effect on the characters it hits, drastically slowing them down. 
Attacks
Because the Death Furnace is made up of two different monsters, it has many attacks, each unique to one half of the furnace.
The bottom half of the furnace is the furnace itself, and specializes in machinery-based attacks. It is able to swallow up characters by creating a huge vacuum, burning them while they remain inside the furnace, before spitting them out. Also, depending on the distance between the character and the furnace, the furnace may choose to drop a huge gear on top of a character, or thrust out two large gears that it uses to hit enemies.
The top half of the furnace is a cannon that specializes in fire-based attacks. It can choose to release several fireballs diagonally downwards, burning the floor, or it can choose to release one of two different bombs. One bomb releases several mines after travelling a certain distance, while the other bomb homes in on a character before exploding upon contact.
Occasionally, the furnace will coordinate both halves to alternate shooting fireballs across the entire length of the map. Both halves of the furnace are also capable of creating a shield that temporarily defends the other half against attacks.
Community content is available under
CC-BY-SA
unless otherwise noted.