Decanee is the primary antagonist in Grand Chase Dimensional Chaser. An enigmatic demon of unknown origin, she was behind the corruption of the Kricktria God's avatars and attempts to eliminate Grandiel's group in the course of their adventures.
In Teroka, Decanee transformed into Kaze'aze for a moment. However, she claimed to be different from the person the Grand Chase had fought before. As said by Belile, Decanee is not a true demon and was just "crafted" by Heitaros Cratsus.
According to a leak by the retired developers, Decanee will be released as a Rank SR character in the future along with Scarde, Esnar, and Void.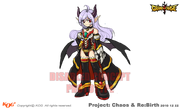 Decanee bears a slight resemblance to Ley.

Decanee's design might be based on an early concept of Ley.

In Chilly Mine, Grandiel claimed that Decanee is an extremely dangerous being.
Main article: Grand Chase Dimensional Chaser/Gallery
References
Edit
Rank SR

— GRAND CHASE —


Elesis

Lire

Arme

Lass

Ryan

Ronan

Amy

Jin

Sieghart

Mari

Dio

Zero

Ley

Rufus

Rin

Asin

Lime

Edel

Veigas

TBA

— OTHERS —


Serdin

Kanavan

Werner

TBA

TBA

— SPECIAL —


Dark Gaian

Arsad