— GRAND CHASE —


ELESIS

LIRE

ARME

LASS

RYAN

RONAN

AMY

JIN

SIEGHART

MARI

DIO

ZERO

LEY

RUFUS

RIN

ASIN

LIME

EDEL

VEIGAS

UNO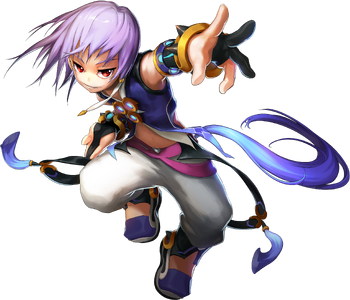 The Disciple specializes in augmenting himself with various abilities aimed at either bringing a disadvantage to opponents, temporarily boosting fighting strength, or enhance efficiency of his special techniques. The Disciple has a close-range battle style that gives continuous hits to the enemy with quick attacks, as well as being well-equipped to handle mistakes in battle. He shows instinctive movements during combo attacks with control key and is easily approached by beginners, with easily connected additional combo attacks.
Asin was trained by his mentor, Asin Tairin, Jin's teacher, to become as great as a Silver Knight just like Jin. When his master died, Asin took up his name and his weapon.
Unlocking
Edit
As a first class, Disciple does not need to be unlocked; Asin starts as this class.
Game Start
| | | |
| --- | --- | --- |
| | | "One needs to fully understand the problem in order to find a resolution." |
Skills
Taunt
| | | |
| --- | --- | --- |
| | | "That's it? I haven't even started yet..." |
Counter
| | | |
| --- | --- | --- |
| | | "Graggh. I'm beginning to enjoy this." |
| | | |
| --- | --- | --- |
| | | "Hraggh! You just got lucky there." |
Death
Game End
| | | |
| --- | --- | --- |
| | | "Oh my...just when I thought we were getting warmed up." |
| | | |
| --- | --- | --- |
| | | "Seems like...there's no use for you anymore." |
Basic Movements
Edit
Keystrokes
Name
Effect
Basic Combo
Asin swings once with his arm, then strikes twice with his fists, and finally forms an orb at the end.
++
Critical Attack
In the middle of his combo, Asin performs a somersault kick.
++
Double Attack
At the end of his combo, Asin performs a somersault kick.
+
Jump Attack
Asin jumps up and kicks twice.
Dash
Asin dashes forward. Holding down the key causes him to run.
+
Air Dash
After jumping, Asin dashes in midair.
+
Dash Attack
While dashing, Asin forms a damaging orb.
+
Grab
Asin kicks down his target twice then strikes with his fists twice.
(Note: Both players are invincible throughout the animation.)
(Note: Only works in PvP; Dungeon monsters cannot be grabbed.)
(Note: Due to lag, it may not work, or may intercept the opponent's attack/skill.)
Level/Type
Name
Effect
LVL 1 Basic


Razor Air Kick

Asin leaps up and drops down with a powerful kick.

Added Skill: Right after dropping down, Asin leaps up and performs a butterfly kick.

LVL 1 Basic


Infinite Hand (Striking Snake Onslaught)

Asin performs two fist attacks forward then strikes on both sides and finally gathers energy for a more powerful fist attack straight forward.

Added Skill: After striking with the charged fist, Asin performs an upward kick.

LVL 2 Basic


Hanuman

Asin inflicts several rapid, consecutive roundhouse high kicks.

Added Skill: After landing, Asin turns around and quickly launches a flying kick at his airborne opponent.

LVL 2 Basic


Fire Drop (Smashing Hands)

Asin gathers energy to perform a powerful fist attack to the front, then teleports above the enemy and smashes the ground below.

Added Skill: After smashing the ground, Asin summons two water geysers to both his sides.

LVL 3 Basic


Bamboo Swallows

Asin swiftly weaves between the bamboo trees, inflicting damage on enemies that fall into the area of effect.

Added Skill: Asin changes the way he weaves through the bamboos with a downward kick on the enemy and an impact in the end, causing the sliced bamboos to fall.

LVL 4 Special


Eastern Rain Liquid Jade

Rain falls on the battlefield, and Asin gathers it into a sphere, drawing in nearby enemies. He then forces the sphere to explode, dealing damage to enemies who fall into the area of effect. Similar to Rama's White Monkey Washing Face.

LVL 4 Special


Circle of the Heavens

Asin teleports to the nearest opponent and places on him a small water sphere, then he strikes the sphere, blowing it up into a huge water blast. If there are no opponents nearby, Asin will execute the Special on the spot.