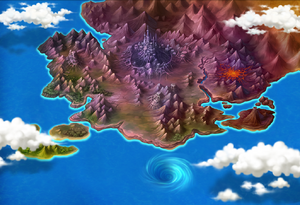 Ellia is one of the two major continents in the world of Aernas, the other being Bermesiah. Before the addition of Archimedia, the map of Ellia in the game was supposed to represent the continent in its entirety but later on became recognized simply as the peninsula.
Ellia is the fourth region explored by the Grand Chase consisting of eight regular dungeons and one Hero Dungeon. In Grand Chase Dimensional Chaser, the peninsula is the eighth unlockable area with three regular dungeons.
Background
There is nothing else known about Ellia other than the regions in the continent that were already uncovered by the story such as Alcubra and Archimedia, as well as its peninsula.
Story
The peninsula of Ellia became the home to the dark queen Kaze'aze and her castle sat in the mountains to the far north of the region.
Unlocking
Players must clear Victor's Fortress to access Ellia. In Grand Chase Dimensional Chaser, Epilogue 7.7: Dream of a Butterfly must be completed.
Dungeons
Below a list of gungeons in order of appearance
: Level 41-43 ▐ Crest: Poseidon's Successor

: Level 43-45 ▐ Crest: Devil Hunter

: Level 45-47 ▐ Crest: Basilisk Slayer

: Level 47-49 ▐ Crest: Hell's Revelation

: Level 49-51 ▐ Crest: Grand Chase

: Level 51-53 ▐ Crest: Peryton's Successor

: Level 53-55 ▐ Crest: Vanquisher of Kastulle Ruins

: Level 55-57 ▐ Crest: Guardian Knight

▐ Crest: Soul Stealer

in Grand Chase Dimensional Chaser
Click on the icons to view the dungeons.
Locations
Others
Trivia
Before the dungeon was renamed, Kamiki's Castle was known as Ellia Continent or Ellia Empire.
In a previous event, there were Ellian Accessories that could be purchased for 18,000 Cash as all of them provided enormous stats including where all characters can bear them.
Gallery
Notes
While the Battle for Bermesiah is a dungeon of Ellia, its background images depict the places from Bermesiah and so were not included in the 'Locations' section of this page.
References