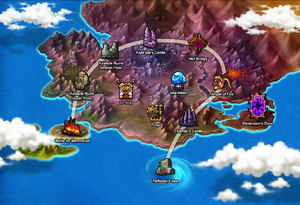 The Ellia peninsula is a region located to the west of the mainland that shares its name. It is the third region explored by the Grand Chase and consists of eight dungeons. This region is also home to the dark queen Kaze'aze, and her castle sits in the mountains to the far north.
Unlocking
Players must complete Victor's Fortress in order to access Ellia.
Dungeons
The following dungeons are on the continent of Ellia, in order of appearance:

: Level 41-43 ▐ Crest: Poseidon's Successor


: Level 43-45 ▐ Crest: Devil Hunter


: Level 45-47 ▐ Crest: Basilisk Slayer


: Level 47-49 ▐ Crest: Hell's Revelation


: Level 49-51 ▐ Crest: Grand Chase


: Level 51-53 ▐ Crest: Peryton's Successor


: Level 53-55 ▐ Crest: Vanquisher of Kastulle Ruins


: Level 55-57 ▐ Crest: Guardian Knight

Soul Stealer
Locations
Trivia
Community content is available under
CC-BY-SA
unless otherwise noted.