Event Stamp
is a Grand Chase
Mini Game
. It can be found at the Mini Games tab in the Menu. The Mini Game is

available only during certain periods. Event Stamp mini games may vary as they are related to the events in progress (hence their name, "Event Stamp").
How to play
Edit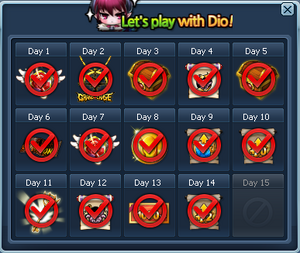 The player clicks on the item labelled as "Day 1" and receives that specific item. The next day, he/she may claim the next item on the board, labelled as "Day 2" and so on, until he/she has claimed all the items (which are usually 14) on the board.
This is not technically considered a mini game, but is still under the mini games tab.