— GRAND CHASE —


ELESIS

LIRE

ARME

LASS

RYAN

RONAN

AMY

JIN

SIEGHART

MARI

DIO

ZERO

LEY

RUFUS

RIN

ASIN

LIME

EDEL

VEIGAS

UNO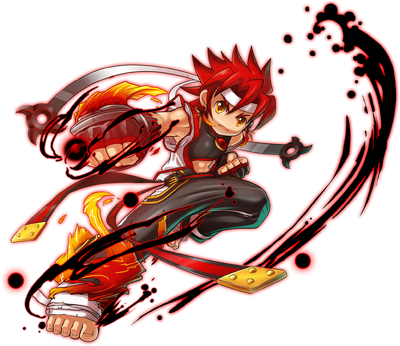 Jin's basic attacks are grounded in fundamental punching and kicking. He combines speed and destructive powers to smash through large groups of enemies. His superior combos with their long reach can sufficiently cover a large area and make quick counter attacks. Through careful meditation, Jin harnesses his Chi to imbue his fists with destructive force.
The Burning Skill bar fills up for Jin allows him to use special skills. After filling the burning gauge up, initiate an attack and inflict even greater damage.
Unlocking
As a first class, Fighter does not need to be unlocked; Jin starts as this class.
Quotes
Game Start
When Attacking
Skills
Taunt
| | | |
| --- | --- | --- |
| | | "You really are troublesome." |
Counter
Game End
| | | |
| --- | --- | --- |
| | | "For this victory, I'm truly grateful." |
| | | |
| --- | --- | --- |
| | | "My name is Jin. It would be best to remember it." |
Basic Movements
Normal
Keystrokes
Name
Effect
Basic Combo
Jin punches forward, then strikes with two palm attacks, then kicks thrice, and finishes off with another punch.
+
Critical Attack
In the middle of his combo, Jin kicks forward twice.
+
Double Attack
At the end of his combo, Jin kicks forward twice.
+
Jump Attack
Jin jumps up and kicks downward.
+
Dash
Jin dashes forward. Holding down the key causes him to run.
+
Air Dash
After jumping, Jin dashes in midair.
+
Dash Attack
While dashing, Jin kicks forward then strikes forward with a fist.
++
Dash Attack (Up)
While dashing attacking, Jin performs an uppercut.
+
Shadow Dodge
Jin slips behind his target via shadow silhouette.
Chi Charge
Jin charges Chi for his Burning Gauge.
+
Grab
Jin grabs his opponent and flips off of them to deliver a punch.
(Note: Both players are invincible throughout the animation.)
(Note: Only works in PvP; Dungeon monsters cannot be grabbed.)
(Note: Due to lag, it may not work, or may intercept the opponent's attack/skill.)
Chi
Filling the Burning Gauge by holding

will allow the use of Chi attacks. Chi uses a portion of the gauge, but while in Burning Mode, Chi does not consume the gauge as it gradually decreases over time.
Keystrokes
Name
Effect
+
Chi Wave
Jin fires a burst of chi.
When used without Chi, nothing will happen, and Jin performs a sweatdrop expression.
++
Hanuman
While dashing, Jin performs a triple kick.
+
Storm Fist
Jin rushes forward and delivers a punch that knocks the opponent away.
Skills
Normal
| Level/Type | Name | Effect |
| --- | --- | --- |
| LVL 1 Basic | Dragon Upper Cut | Jin punches the ground to produce a shockwave and then strikes with an uppercut. |
| LVL 2 Basic | White Flower Technique | Jin performs a series of fist and kick attacks before creating a burst of energy that blooms like a flower. |
| LVL 3 Basic | Fist of 10,000 Hells | Jin dashes forward while creating a large Chi sphere that consists of series of explosions, then causes the sphere to explode and knock up trapped enemies. |
| LVL 4 Special | | Jin performs a zig-zag dash upwards causing several hits during the dashes, finishing off with an explosive slam to the ground, similar to Thief's Shadow Stranger Lv 2, Druid's Big Axe Destruction, and Spell Knight's Hovering Crusher. He is then put into super armor mode that lasts for 15 seconds. |
| LVL 4 Special | Big Shot | Jin accumulates Chi and drops down, smashing the ground and generating a blazing whirlwind around him. |
Burning
| Level/Type | Name | Effect |
| --- | --- | --- |
| LVL 1 Burning | Burning Dragon Uppercut | A punch is added in between the two attacks. |
| LVL 2 Burning | Burning White Flower Palm | The entire skill is replaced by a series of strong, forward punches and shoulder rams. |
| LVL 3 Burning | Burning Fist of 10,000 Hells | Instead of rushing forward, Jin creates a large Chi sphere before throwing it a certain distance. |
Trivia
Fighter's 4th grade attack, Flash of Light, shares the same name as Phoenix's 1st grade attack and Bloodless's 3rd Purchased grade attack.
Fighter's second 4th grade attack, Big Shot, shares the same name as Archer's 1st grade attack and Arch Ranger's 4th grade attack.
Fighter is Jin's only class does not utilize the rolling ability.

However, with the Skill Tree, Fighter's shadow dodge can function similarly as the rolling ability.