"

This world shall be enslaved by my power and you will be my slave!

"

— Gardosen
Gardosen is a demon that is fought as a boss in Hell Bridge.
Background
There is nothing else known about Gardosen other than that he was supposedly the ruler of Hell according to Elesis.
Story
Hell Bridge
When the Grand Chase entered the pathway to Hell, they are tasked to stop a demon named Gardosen as he is attempting to cross to the material world with the help of Kaze'aze and assault Bermesiah. His voice was heard, ordering his shadowy subordinates to give them a taste of Hell.
As the Grand Chase reached Gardosen himself, he taunts the group. Ultimately, the demon is defeated and they managed to drive him back into where he came from.
Attacks
Gardosen performs attacks that are similar to some of the other characters' skills. Gardosen can use Roadstar Chaser like the Dragon Knight but larger, numerous Blast Bombs like the Spell Knight in set places of the stage and can petrify the players like the Magician's Stone Curse. He can also use an air slash similar to Gaikoz and Kamiki and can teleport to another player.
Gardosen attacks with his sword as well and sometimes rushes forward to attack those in front of him.
Hellish Gardosen
Four of this version are fought in the Sanctum of Destruction, becoming more deadly. The Hellish Gardosen has a modified Blast Bomb where he drops it three times in a row and a modified Stone Curse where its vacuum range increases greatly. He also has two new attacks. Hellish Gardosen can shoot out a homing, reddish orb that is similar to those of the Dark Hierophant (without subtracting MP) and he can summon a dark vortex which is identical to Druid's Bloody Funeral but without the totems and no HP gain, drawing his enemies into it which deals maximum damage (99,999) and instantly annihilating players once the attack has finished.
Hellish Gardosen is encountered once again in the Tower of Disappearance.
in Grand Chase Dimensional Chaser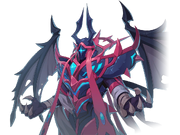 He is encountered again as World 8 and dual raid boss.

This section is yet to be filled. You can help Grand Chase Wiki by adding proper information.

Trivia
Gardosen may be a denizen of the Underworld. However, there is neither information nor confirmation if the Underworld is the same as Hell in Grand Chase.
In North America, the third server created was named "Gardosen".
In the now-defunct game AIMA, Gardosen appeared as a boss in the dungeon Tower of Gardosen.
Gallery
Screenshots
References
Community content is available under
CC-BY-SA
unless otherwise noted.