Garud, the Hatred is the leader of the Void that is fought as a boss in Dimension's End.
Background
There is nothing else known about Garud other than its authority over the Void inhabiting the barren region of Trivia. The ancient spirit was somehow also aware of the Grand Chase despite being in a different dimension.
Story
Dimension's End
Garud welcomed Veigas and introduced to him the unstable Dimension Gate that led to Aernas. Despite the warm reception, the Destroyer assaulted the ancient spirit, claiming that its role was fulfilled therefore the Hatred should follow the path of its race and die.
While acknowledging to have been bested, Garud sensed the Twelve Disciples in Aernas and informed Veigas that the power they held could match his own. He stated further that these warriors even stopped a foe that was to be a Creator and that someone with malicious intent like him would be stopped by them, enraging the Destroyer of Aernas.
Attacks
Trivia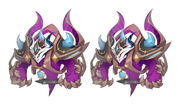 Gallery
References
Community content is available under
CC-BY-SA
unless otherwise noted.