— GRAND CHASE —


ELESIS

LIRE

ARME

LASS

RYAN

RONAN

AMY

JIN

SIEGHART

MARI

DIO

ZERO

LEY

RUFUS

RIN

ASIN

LIME

EDEL

VEIGAS

UNO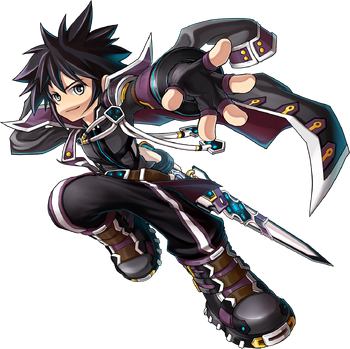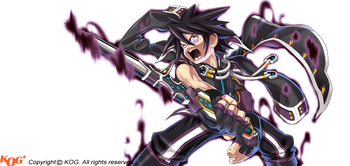 Sieghart




Gladiator





ST




Warlord




Duelist




Prime Knight
The Gladiator is not only an excellent swordsman, but also an excellent fighter. He uses every part of his body to attack and can smash through nearly any barrier or enemy with his body. From within his body he generates Rage which increases as he is attacked or as he attacks. When he is full of rage, his attacks become stronger and he is able to completely destroy his enemies. Note that the rage bar does not need to be completely full to use, but will not last as long.
Unlocking
As a first class, Gladiator does not need to be unlocked; Sieghart starts as this class.
Quotes
Game Start
| | | |
| --- | --- | --- |
| | | "You just signed your death warrant." |
When Attacking
Skills
Taunt
| | | |
| --- | --- | --- |
| | | "Yeah, you should just go ahead and attack if you have the courage." |
Counter
| | | |
| --- | --- | --- |
| | | "Ugh! Yup, yup, it's about time for me to start." |
Death
Game End
Basic Attacks
Keystrokes
Name
Effect
Basic Combo
Sieghart swings his gladius thirce, drives it in the ground, and finishes with a flying kick.
+
Critical Attack
Sieghart stomps the opponent's foot, before bringing down his gladius with a large swing.
+
Double Attack
Sieghart spins on himself before performing a swing forward.
+
Air Combo
Sieghart performs a somersault, swinging his gladius in a circular motion, and finishes with a kick that knocks the opponent on the ground.
+
Jump Attack
Sieghart swings his gladius downwards and upwards.
Dash
Sieghart dashes forward. Holding down the key causes him to run.
+
Air Dash
After jumping, Sieghart dashes in midair.
+
Dash Attack
While dashing, Sieghart performs a wide slash. If this attack hits an opponent, pressing will initiate the basic combo.
Rage Mode
Sieghart kneels on the ground and releases the rage inside his body.
+
Grab

Sieghart grabs the opponent under the neck and slams him or her on the ground behind.

(Note: Both players are invincible throughout the animation.)
(Note: Only works in PvP; Dungeon monsters cannot be grabbed.)
(Note: Due to lag, it may not work, or may intercept the opponent's attack/skill.)
Skills
Level/Type
Name
Effect
LVL 1 Basic


Iron Crusher

Sieghart swings his gladius in front of him, finishing with a heavy downward blow.
LVL 2 Basic


Flame Sword

Sieghart drags his gladius on the ground to generate sparks before sending a huge purple energy wave forward.
LVL 3 Basic


Grinding Punisher

Sieghart performs two mighty uppercuts engulfed with purple flames.

(Note: It is possible to control the distance using the and keys).

LVL 4 Special


Soul Extinction

Sieghart unleashes a huge roar out of rage that turns into a column of darkness, which knocks up all enemies on the map and does insane amounts of damage.
LVL 4 Special


Mortal Fear

Sieghart condenses his inner darkness into a large deadly aura around him that destroys anything or anyone so foolish to linger around him. The aura stays for about 6 seconds.
Rage Mode
The Rage Mode, like Jin's Burning Mode, temporarily increases Speed, activates Super Armor and modifies skills. Additionally, Sieghart deals more damage and takes less damage while in Rage Mode. Sieghart's Gauge slowly fills automatically, unlike Jin's which is charged manually and drains when left idle. Sieghart's Gauge also fills when he attacks someone (Dungeon only) or gets attacked (Dungeon and PvP). You can activate Rage Mode using the

key when the gauge has filled at least around the 2nd bar marker of MP. Rage Mode lasts up to 5.6 seconds and continuously drains the gauge, but using Skills during Rage Mode will temporarily pause the draining.
Rage Special Attacks
| Level/Type | Name | Effect |
| --- | --- | --- |
| LVL 1 Rage | Rage Iron Crusher | After the initial first slash, another blow is given that launches the enemy a into the air, before Sieghart knocks him or her down violently with the final blow. |
| LVL 2 Rage | Rage Flame Sword | After the flame wave is sent, Sieghart stomps one of his foot on the ground to generate an explosion at the apex of the wave. |
| LVL 3 Rage | Rage Grinding Punisher | Sieghart's second uppercut is enhanced by dark powers, making it larger and deadlier than the normal version. |
Trivia
Originally, the voicing of Sieghart's Iron Crusher (non-rage) and Grinding Punisher (non-rage and rage) had more "lighter" tones. However, a week after Sieghart's release, they were alternated for unknown reasons.
All of the Gladiator's movements are similar to the Knight's movements.
His blade, "Gladius", is a Latin term meaning "sword".
Although Sieghart holds his Gladius in a reverse-formation, he usually fights with it regularly.
As shown in his Skill Tree, the Gladiator is Sieghart's only job that makes clever use with his dark energies, wherein his other jobs release dark energy only through his weapons.

The Gladiator can release his energy in a form of a spinning boomerang.
Can consume his dark energy to heal himself.
Can release waves of energy through the ground or his hands that end in an explosion.
Can form his energy into a whirling vortex or an aura of darkness surrounding him.
Community content is available under
CC-BY-SA
unless otherwise noted.