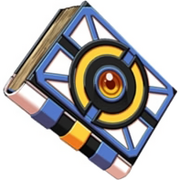 The grimoire or manual is a weapon utilized by Mari for her Rune Caster job in Grand Chase. It is a magical tome that can assist with the conjuration and control weapons and machines such as machinery crates, cannons, and the Wing Drive Weapon or simply W.D.W.
It is also an Epic-type item that can be obtained from the Shop.
Background
The Rune Casters of Kounat used grimoires in researching new tools and improving their technology at the time. The manual contains everything about the ancient kingdom's magic engineering.

Item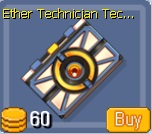 Acquisition
Shop: Can be purchased for 60 Cash.
Stats
Level Requirement: 0
Attack: 385
Defense: 0
Vitality: 0
Trivia
Mari's Grimoire takes the appearance of a deep blue-colored Klara Libri with the corners of the cover and the insides also blue rather than gold and brown respectively during her Buster Lv 2 and Core Break Specials.

There is a possibility that the book is another clone of the Klara Libri.
 
Gallery
References
Community content is available under
CC-BY-SA
unless otherwise noted.