— GRAND CHASE —


ELESIS

LIRE

ARME

LASS

RYAN

RONAN

AMY

JIN

SIEGHART

MARI

DIO

ZERO

LEY

RUFUS

RIN

ASIN

LIME

EDEL

VEIGAS

UNO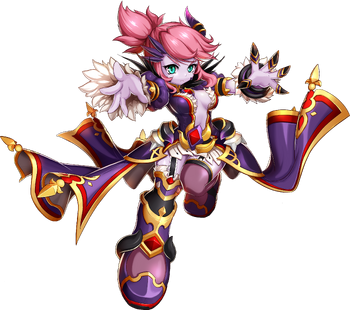 While searching high and low all over Bermesiah and Silver Land for Dio, Ley sensed a distortion coming from the farthest reaches of the world. Feeling that the distortion had something to do with her childhood friend, Ley decided to go and investigate, hoping she would find Dio there. However, along the way, Ley was surprised to find that the Ultima absorbed a strange new power. 
The glove, which has been a powerful weapon passed down in the Crimson River family for generations, has the main ability of facilitating the summoning of magic and creatures without having the need to draw spell glyphs, which have already been enscribed into the gauntlet. The magic gem allows the creation of portals, which the creatures can travel through.
When the Ultima absorbed the new energy, its power reached a new high, which allowed Ley to grow stronger. While testing her new powers, the first thing Ley noticed is that she can summon her pet dog, Bastion Mary, who appears as a small, nervous puppy. It is hard to imagine that she can take on a second form that is geared for combat, like a wolf of darkness, Mary has a real bloodthirsty instinct, but is totally and completely loyal to her master Ley.
As the Harbinger, Ley can summon both Garouille and Bastion Mary, who can be controlled by the player. The improved AI allows for more successful fights. The all new jump and dash attacks serve to alleviate the frustrations of running dungeons as a Summoner.
Requirements

It is necessary to be level twenty (20) to be able to participate in Second (2nd) Job Promotion.
GP
(Cost 10000 GP)
Part 1
Run the Marsh of Oblivion once. Even if you don't successfully pass the dungeon, you'll still complete the mission.

Entering the dungeon and leaving immediately does not count as "running". It only counts if the dungeon is completed or failed.
Part 2
Part 3
Part 4
Slay 100 monsters within the range of 2 above or below level monsters.
Cash
(Cost 2700 Cash)
Quotes
Game Start
Summoning
Skills
Taunt
| | | |
| --- | --- | --- |
| | | "Your moves are kinda bad..." |
Game End
| | | |
| --- | --- | --- |
| | | "Such a waste... And you had potential too." |
Skills
| Level/Type | Name | Effect |
| --- | --- | --- |
| LVL 4 Special | | Ley summons the giant, fiery eye "Hate" that snipes enemies across the map with quick, powerful bursts of condensed dark energy. |
| LVL 4 Special | Mortality | Ley shoots a small orb that implodes into a huge, dark explosion on contact or at the climax of its travel. Any opponent surviving the initial blast will be marked with a purple symbol, which will detonate after a short period of time. |
Trivia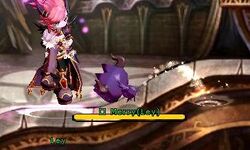 Harbinger is also known as Darkbringer in foreign servers.
While Bastion is summoned and Ley uses her taunt, Bastion Mary will pee.
In the Korean server, Ley chants "To those who block my path, the chaotic darkness shall fall upon" before using Center of Gravity.