— GRAND CHASE —


ELESIS

LIRE

ARME

LASS

RYAN

RONAN

AMY

JIN

SIEGHART

MARI

DIO

ZERO

LEY

RUFUS

RIN

ASIN

LIME

EDEL

VEIGAS

UNO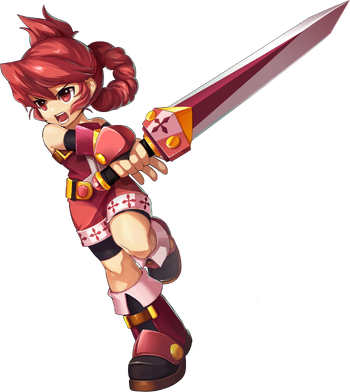 ELESIS




Knight





ST




Spearman




Sword Master




Savior
Elesis is feared by her enemies for her powerful attack skills that instantly wipe out entire groups of monsters. She leads her team at the front line of battle, advancing against enemies while defending her allies against enemy Archers and Mages. When she charges her enemies, they go down without having a chance to retaliate. Elesis has 80% more defense points against Archer's arrows, and suffers the least amount of delay among the Grand Chase members when inflicted with powerful damage from enemies.
Unlocking
As a first class, Knight does not need to be unlocked; Elesis starts with this class.
Quotes
Game Start
When Attacking
Skills
Taunt
| | | |
| --- | --- | --- |
| | | "Are you feeling scared yet?" |
Counter
| | | |
| --- | --- | --- |
| | | "I'll show you the true meaning of fear!" |
Game End
| | | |
| --- | --- | --- |
| | | "You are no match for me!" |
Basic Movements
Keystrokes
Name
Effect
Basic Combo
Elesis she swings her sword three times, stabs the opponent for two hits, then ends with another slash to knock down her opponent.
++
Critical Attack
In the middle of her combo, Elesis swings her blade downward.
++
Double Attack
At the end of her combo, Elesis swings her blade downward.
++
Aerial Combo
In the middle of her combo, Elesis knocks her opponent up with an upward swing, then leaps at them to knock them down. The opponent will bounce up when he/she hits the land.
+
Jump Attack
Elesis jumps up and swings her blade downward. If knocked down opponent is struck by this attack while falling, then he/she is restabilized by the hit and will fall on his/her feet.
Dash
Elesis dashes forward. Holding down the key causes her to run.
+
Air Dash
After jumping, Elesis dashes in midair.
+
Dash Attack
While dashing, Elesis swings her blade downward.
+
Grab
Elesis grabs her opponent and throws them.
(Note: Both players are invincible throughout the animation.)
(Note: Only works in PvP; Dungeon monsters cannot be grabbed.)
(Note: Due to lag, it may not work, or may intercept the opponent's attack/skill.)
Skills
Level/Type
Name
Effect
LVL 1 Basic


Mega Slash

Elesis thrusts three times followed by a powerful downward slam


(Note: Quick players can escape or counter in the pause between hits, while leaving the user vulnerable)

LVL 1 Purchased


Circle Blade

Elesis performs a slash followed by a 360 degree upward swing. Can be bought for 500 Cash for 500 uses.
LVL 2 Basic
Elesis shoots a powerful energy wave from her sword.
LVL 2 Purchased


Magnum Break

Not to be confused with the Knight Skill Tree's Magnum Break.

Elesis attacks with deadly multiple quick deadly thrusts followed by a stronger thrust. Can be bought for 600 Cash for 500 uses.

LVL 3 Basic
Elesis throws a sword wave upward followed by a downward dive.
(Note: Because of the Knockup, several hits can miss)
LVL 3 Purchased


Storm Blade

Elesis rapidly spins before delivering a powerful, destructive burst. Can be bought for 700 Cash for 500 uses.

LVL 4 Special


Bravery (Braver)

Elesis generates an aura that deals burst damage and gains a 20 second buff that alters her entire moveset.




Her normal attacks gain a violet, fiery property and on the third attack will become a large, energy arc projectile that drags her targets along with it.
Her jump attack is a purple flame slash.
Her dash attack is a straight dash that goes through enemies.
Her normal dash is changed into a shadow dash that can slip through enemies.
She gains Hyper Armor and all damage dealt to her is reduced to 1.


Elesis cannot use other skills while this buff is active.

LVL 4 Special


End of Heart

Elesis charges forward and backward, marking every opponent in her way with a cross that explodes a few seconds later.
Trivia
Prior to the Season 3 revamp, Sword Fire fit its description that it spread powerful flames by having actual flames in the animation. The flames has since been removed and have been replaced by regular purple air renders.
Knight Skill Tree also has a skill named Magnum Break.
Knight's 1st grade attack's name (Mega Slash) was reused for one of Vanisher's skills.
Vanquisher has a weapon called Storm Blades, though the wording is plural rather than singular.
Prime Knight has a similar skill to Storm Blade called Raging Soul Edge, however the explosion radius is much smaller.
Some attacks made by the Elsword character Elsword has identical names compared to Elesis's.

Elsword's "Mega Slash" is just one powerful swing dealing high damage.
Elsword's "Sword Fire" enchants his own blade with flames and strikes the ground, erupting flames. After the attack, the sword will continue to burn temporarily, giving him the opportunity to attack with flame damage.
Elsword's "Storm Blade" summons a large, magical sword-like spike around him which rotates constantly, piercing the opponent.
Elsword's "Windmill" does a constant, horizontal swing for five seconds while moving around. His variation can also be done in mid-air and has Super Armor.

Elsword's Air Slash was based off of Elesis's Circle Blade, although the second hit of Air Slash is 180 degrees upward.
Community content is available under
CC-BY-SA
unless otherwise noted.