KYLE




Novice




Adventurer




Hero




Sword Saint
Description
"Sword Saint in training."
Main Info
Name: Kyle
Age: Unknown (in his mid-teens)
Hobbies: Practicing swordsmanship
Likes: Sword Saint
Dislikes: Nagging
Ever since he was little, he lived in the Abbey with Grandiel and Cindy. He was an active child, armed with excessive confidence and a personality that disliked losing. He spends his days listening to Cindy's nagging because of his serious lack of interest in studying.
He has a pretty good head on his shoulders and talent that if he puts his mind to it then he's able to do it well. Though he usually speaks of guts and effort, when it comes down to it, he doesn't put forth much effort. Since he lacks interest in studying, learning difficult things like magic was impossible for him. So instead he picked up swordsmanship since he enjoys using his body. Above all, he felt that using a sword was much cooler than using magic.
Since childhood, he was attracted to the world of martial arts and playing Hero that he decided he would become a Sword Saint. Recently, he's been completely consumed by the stories Grandiel told him regarding the heroes of another world, the Grand Chase.
Acquisition
Adventure: Abbey Zone Dungeon Clear Reward.
Shop: Can be purchased in Prana Shop.
Fusing Heroes: Acquire randomly through Hero Fusion.
Treasure Chest: Can be acquired from a Treasure Chest.
Shop: Can be acquired from Summon Shop.
Attributes
| | Max Health | Physical Attack | Physical Defense | Magic Defense |
| --- | --- | --- | --- | --- |
| Base | 7026 | 2843 | 1472 | 803 |
| +12 | 10900 | 4411 | 2283 | 1246 |
| Max | 14637 | 5923 | 3066 | 1673 |
Skills
ACTIVE
Skill Icon
Name
SP
Cooldown
Description
Assault Rush
1
15 sec(s)
"Jump into battle and attack"

Kyle applies a shield on himself that lasts 3 seconds then jumps into battle to deal 120% of physical attack damage. Targeted enemies have their movement speed reduced by 50% for 5 seconds.

Critical X
2
18 sec(s)
"Throw the enemies into the air and continuously attack"

Throw nearby enemies into the air and continuously attack them to deal with 246% of physical attack damage.

[Additional Effect]
Enemy stun

PASSIVE
Path of a Sword Saint
N/A
N/A
"When an ally dies, get angry and become stronger"

When an ally dies, Kyle will become angry, he will recover 3 SP and a physical attack will increase by 20% for 10 seconds. If an enemy dies, his skill cooldowns will reduce by 0.5 seconds.
Evolution
3★
4★
5★
6★
Novice
초심자
Adventurer
모험가
Hero
영웅
Sword Saint
검성
Base
x2
x5
x20
Recommended Sets
Color
Name
2 set is equipped
4 set is equipped
Power of Anger
Skill Cooldown Reduction 4.00%
When using skills, acquire 'Power of Anger' effect.

(Can stack up to 10 times)

[Power of Anger]
For each stack, Attack Damage increases by 2%, and Damage Received reduces by 2%.
Recommended Accessories
2 Skill Cooldown Reduction + 1 Critical Chance Increase
Accessory
Name
Description
Tier 1
Tier 2
Tier 3
Tier 4
Tier 5
Solar Ring
Increase critical chance.
0.80%
1.60%
2.40%
3.20%
4.00%
Chasm Necklace
Skill cooldown reduction.
0.80%
1.60%
2.40%
3.20%
4.00%
Earrings of Order
Skill cooldown reduction.
0.80%
1.60%
2.40%
3.20%
4.00%
Recommended Traits
Skill Cooldown Reduction + Base Attack Damage Reduction + Skill Damage Reduction
LVL 4/5
LVL 4/5
LVL 4/5
Critical Chance Increase + Skill Cooldown Reduction + Skill Damage Increase
LVL 4/5
LVL 4/5
LVL 4/5
DISCLAIMER: These sets of equipment are purely based on the varying opinions in the Grand Chase community. Recommendations will always change as the game expands. This section only serves as a model for others to consider and players are encouraged to customize their build.
Collections
It All Starts Now
Kricktria, a world in a dimension far from Aernas. The beginnings of hopes and dreams start here!

3★ Kyle

3★ Cindy

4★ Dolly

4★ Lydia
Completion Reward: x50
As a boss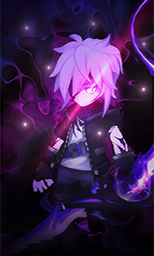 Dark Kyle can be fought as a boss in Act 21.6: Trauma Imprinted on Soul.
Attacks
Dimensional Chasm
In his Chasm, Dark Kyle has his received physical attack/basic attack damage reduced by 80%.
Trivia
Gallery
Main article: Grand Chase Dimensional Chaser/Gallery
Videos
Sprites
Quotes
Voice-over
"Sword Saint Kyle! From now I'll always be with you."
"Grandiel told us about the heroes from another world, Grand Chase."
"I am the Hero of Justice!"
"Trust in me!"
"Looks like the next chapter of the great Sword Saint Kyle is about to start!"
"Don't worry! I'll deal with this quickly..."
"My childhood? Can't say I remember any of it..."
"Grandiel and Cindy? I've lived with them since the beginning."
"Ah! Did you just see that? The power of the dark dragon appeared in my hand!"
"I'm not playing around! One day everyone will acknowledge me!"
"Hmph! You better not ask for an autograph in the future!"
"How about this? Do I look more serious like this? What? It's too exaggerated?"
"As I thought, seriousness is an important characteristic for a Hero."
"Traditionally a Sword Saint does not let go of his sword even while sleeping."
"Only this sword will bring peace to my heart."
"You must not miss even one second of my greatness."
"Well, well... It's difficult being the chosen one."
"Ow... The place where Cindy hit me earlier... She's so uselessly strong..."
"Ah, it's nothing... This is... a mere scratch."
"I want to hurry and become a Hero!"
"I'm stronger than you think! Hurry up and upgrade me!"
"You aren't trying to throw me away, are you?"
"Sigh... So bored..."
"Sigh... So sleepy..."
---
"I am the Hero of Justice! The Great Sword Saint Kyle!"
"You can trust me!"
"The Sw... Sword Saint Kyle..."
---
"Sigh... The road to Sword Saint is far..."
"Heh. Are you looking closely at the Sword Saint's splendid form?"
"Is everyone following along closely?"
Speech Balloons
"Leave it to me! I'll return quickly."
"Oh! Looks like you got something amazing."
"Hurry up and upgrade me!"
"Hurry up and evolve me!"
"It is finally the time for the heroic Kyle to be awakened!"
"Hurry and Prestige me!"
"Hurry and select my Trait!"
"It is finally time for me to receive my Transcendence Awakening!"
References
Rank A


Kyle

Cindy

Pepe

Rocco

Carnero

Mandragora

Carbon

Padre Ram

Lilia

Dmitri

Dolly

Duchi

Viola

Navarus

Rose

Lydia

Erednay

Henry

Dr. Merken

Nicholas

Sai

Stavrogin

Captain Claw

Mamin

Hekar

Porch

Rares

Shasha

Fennel

Big Imp

Charlotte

Coco

Negia

Osiris

Marjoram

Hanaru

Nymphyr

Ponya

Kaiga

Swen

Urca

Husky

Big Al
Community content is available under
CC-BY-SA
unless otherwise noted.