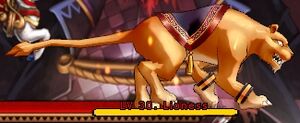 The Lioness is a monster found in the Nightmare Circus. They accompany Oretina and can be summoned by her during the fight.
Lionesses attack similarly to Icefangs.
Lionesses have a few attacks. They can do a bite attack, lunge forward at players before attacking them twice in quick succession. They can also slash the area in front of them to damage players and can also let out a short-ranged roar in front of them that confuses players caught in the attack, reversing their left and right movements for a short time.
Community content is available under
CC-BY-SA
unless otherwise noted.