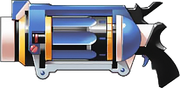 The Maverick (also known as Gunbuster) is a weapon utilized by Mari for her Gunslinger job in Grand Chase. It is a powered gun designed to fire magical rounds while conserving the operator's energy.
Background
The Maverick was designed by Jean-Sanque Gulio, the most esteemed Rune Caster in the ancient kingdom of Kounat during the First Demon War. When Kounat came to an untimely end at the hands of a mysterious explosion, the secrets of the Maverick and the secrets of building them were lost forever. However, it is believed by scholars that the rifles used today by the dwarves of Archimedia are based on the ancient design of the Maverick.
Trivia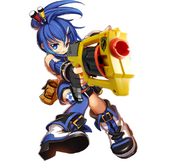 Gallery
References
Community content is available under
CC-BY-SA
unless otherwise noted.