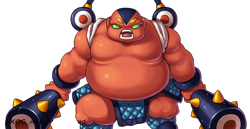 Mongbans are large, sumo-like monsters. There are also two variations of it; Dark Mongbans, that are a purpleish-blue color, Regular, that were white, and Mongban Leaders, which are red.
Attacks
It will attack players with either a simple two-hit combo, a lunge that will cause an earthquake that knocks nearby players into the air, and an electric storm that will deal a few hits if you are close to it. The lunge usually appears as a counter attack, usually in response to being hit a large amount of time without being able to move.
Only the Leaders have an attack that shoots 3 bombs like the Alchemist's 3rd grade black magic skill. It replaces the Electric Storm.
Appearances
Trivia
In the Bermesiah Revamp, the regular Mongbans were written out.
The "Dark Mongban" card accually has a typo, as it says "Dark Monban".
Community content is available under
CC-BY-SA
unless otherwise noted.