— GRAND CHASE —


ELESIS

LIRE

ARME

LASS

RYAN

RONAN

AMY

JIN

SIEGHART

MARI

DIO

ZERO

LEY

RUFUS

RIN

ASIN

LIME

EDEL

VEIGAS

UNO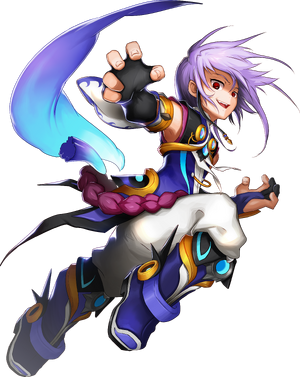 Before his mentor was killed, Tairin told his student about the traitor Victor and the greatest warrior he had tried to become, the Rama. After burying his master, Asin heads towards Victor's Fortress to find Victor and train his powers to those of a Rama. By then, however, Victor had already been defeated by Jin, and the Vajras, the weapons needed for one to become a Rama, were gone.
After traveling for a long time, Asin finally meets the Grand Chase and Jin, and tells him that their master Tairin is dead. Asin then threatens Jin with the intent to become stronger and surpass him.
Jin, who is a warrior with a pure heart and true strength, tells Asin everything he knows. But like Victor, he fails to become a Rama as he is only focused on getting more power. Instead, Asin takes the skills he learned from his mentor and Jin's knowledge to train and increase his own powers, adapting an entirely new fighting style that his uniquely his own, thus becoming the Mugen.
Requirements
Edit
It is necessary to be level twenty (20) to be able to participate in Second (2nd) Job Promotion.
(Cost 0 GP)
Run the Marsh of Oblivion once. Even if you don't successfully pass the dungeon, you'll still complete the mission.

Entering the dungeon and leaving immediately does not count as "running". It only counts if the dungeon is completed or failed.
Slay 100 monsters within the range of ± 2 above or below level monsters.
(Cost 6500 Cash)
Game Start
| | | |
| --- | --- | --- |
| | | "Shall I make a full display of my talents?" |
Skills
| | | |
| --- | --- | --- |
| | | "Striking Snake Onslaught!" |
Taunt
Game End
| | | |
| --- | --- | --- |
| | | "You're weaker than I thought." |
See Mugen Skill Tree
| Level/Type | Name | Effect |
| --- | --- | --- |
| LVL 1 Basic | Chaotic Storm | Asin spins and creates a spherical water veil that marks enemies hit by the water veil and damages them after 3 seconds. |
| LVL 2 Basic | | Asin teleports to a nearby enemy and jumps up, dragging the enemy with him, then forcefully kicks the enemy downwards, creating a water explosion with the impact on the ground. |
| LVL 3 Basic | | Asin summons energy through his hands and slams both hands to the ground, releasing groundwater from below and causing five massive water pillars to erupt in a large area around him. |
| LVL 4 Special | Eastern Rain Liquid Jade | Rain falls on the battlefield, and Asin gathers it into a sphere, drawing in nearby enemies. He then forces the sphere to explode, dealing damage to enemies who fall into the area of effect. Similar to Rama's White Monkey Washing Face. |
| LVL 4 Special | Circle of The Heavens | Asin teleports to the nearest opponent and places on him a small water sphere, then he strikes the sphere, blowing it up into a huge water blast. If there are no opponents nearby, Asin will execute the Special on the spot. |
Mugen is also known as Ryujin, Muryang and Infinity.

Mur (물) from Muryang means Water in Korean.
In Japanese mythology, Ryujin is the tutelary deity of the sea and symbolized the power of the ocean.

Mugen is the first class to be released in both the Korean server and the Brazilian server at the same time when it came out.