— GRAND CHASE —


ELESIS

LIRE

ARME

LASS

RYAN

RONAN

AMY

JIN

SIEGHART

MARI

DIO

ZERO

LEY

RUFUS

RIN

ASIN

LIME

EDEL

VEIGAS

UNO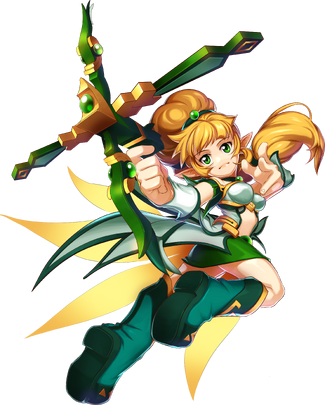 LIRE




Archer





ST




Crossbowman




Arch Ranger




Nova
Novas are legendary Elven heroes whose name means, "One that will save the world from darkness." Lire is Eryuell Island's very first Nova.
Although Kaze'aze has been defeated, a new crisis threatens the Continent of Bermesiah: the Elves must confront Dark Anmon's invading forces if they wish to restore peace to the land. The Elven elders of Eryuell Island discovered ancient weapon schematics in the Kastulle Ruins and incorporated what they learned to develop a new, more powerful weapon, the Composite Bow.
After Lire defeats Kaze'aze and Dark Anmon and completes the test detailed in the Kastulle Ruins' weapon schematics, the Elven Elders will reward her with the new Composite Bow and the title of Nova. Lire, as Eryuell Island's first Nova, is an inspiration to all Novas who come after her.
Novas are Elven archery masters who move with complete freedom and wield Composite Bows which combine the strengths of a Crossbow and Giant Bow. This allows for the rapid multi-shots of the crossbow and the powerful finishing blows of the giant bow to be incorporated in devastating combo attacks that can swiftly defeat enemies before they can approach a Nova. Her high jumps and agile dashes are essential to the Nova's basic combat strategy of confusing and maintaining distance from enemies. Even when surrounded, Novas can use short-range skills to break through the enemy line.
Requirements
It is necessary to be level forty (40) to be able to participate in Fourth (4th) Job Promotion.
"The world is falling into darkness again... We need to quickly make the powerful weapon that is written of in the Ancient Elven Vellum. I need to you find and gather the vellum and the materials."
"As expected, the last battle has finally started. This may be the end for this continent and for the elves too. If you can end this battle and find peace again, all the elders will acknowledge you as a Nova."
- Eryuell Island Leader -
GP Mission
(Cost 18,000 GP)
Part 1
Part 2
Part 3
Part 4
Slay 250 monsters within the range of ± 2 above or below level monsters.
Part 5
Cash Mission
(Costs 11,800 cash)
Quotes
Game Start
| | | |
| --- | --- | --- |
| | | "I would rather not get dirty, but I'll be your opponent." |
Skills
Taunt
| | | |
| --- | --- | --- |
| | | "It looks like you guys need more training." |
Game End
| | | |
| --- | --- | --- |
| | | "Oh no! Are you badly hurt?" |
| | | |
| --- | --- | --- |
| | | "Huohhh~ It's getting dusty." |
Basic Movements
Keystrokes
Name
Effect
Basic Combo
Lire fires three individual arrows followed by two more slightly more powerful arrows. At the beginning of the combo, she can aim using the
++
Critical Attack
In the middle of her combo, Lire slides in one direction while firing an arrow to the opposite direction.
++
Double Attack
At the end of her combo, Lire slides in one direction while firing an arrow to the opposite direction.
++
Somersault Kick
While dashing, Lire performs a somersault kick upward, knocking the target into the air.
++
Shadow Attack
In the middle or after her combo, Lire slips behind her target via shadow silhouette and fires an arrow to the opposite direction.
+
Jump Attack
Lire jumps up and fires an arrow that arcs downward.
++
Jump Attack (Down)
Lire jumps up and fires two quick individual arrows straight down to the ground.
+
Double Jump
While in midair, Lire performs a second jump.
+
Aerial Heel Kick
After a double jump, Lire drops straight down with a kick.
Dash
Lire dashes forward. Holding down the key causes her to run.
+
Sliding Attack
While dashing, Lire fires in the opposite direction.
+
Sliding Attack
While dashing, Lire performs a sliding kick.
+
Grab
Lire grabs her opponent before kicking off of them.
(Note: Both players are invincible throughout the animation.)
(Note: Only works in PvP; Dungeon monsters cannot be grabbed.)
(Note: Due to lag, it may not work, or may intercept the opponent's attack/skill.)
Skills
| Level/Type | Name | Effect |
| --- | --- | --- |
| LVL 1 Basic | Charged Shot | Lire rams her target with her shoulder, then rapidly fires three arrows, followed by a slightly more powerful arrow. |
| LVL 2 Basic | Blood Rain | Lire fires red arrows skyward which then opens up two vortexes above and to her side to rain down more bloody arrows. |
| LVL 3 Basic | | Lire rapidly fires fifteen arrows at once followed by five more arrows simultaneously that explodes on contact. |
| LVL 4 Special | Void Shot | Lire fires three arrows, each capable of creating a void upon contact that draws enemies in, dealing damage over time. The direction of her three shots can be controlled at any point while the skill is being cast. |
Trivia
Nova's physical attacks were based from the Elsword character Rena.
Community content is available under
CC-BY-SA
unless otherwise noted.