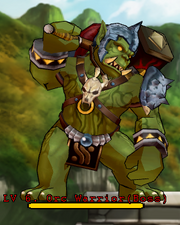 The Orc Warrior appears first as the boss of the Outer Wall of Serdin and later as a normal enemy. However, in Season 2, the boss version of Orc Warrior wears a helmet unlike the Orc Warriors found as normal monsters. In Season 3, Orc Warriors as normal monsters have a helmet as well. Two versions of the Orc Warrior are the Orc Zombie Warrior and the Violent Orc Warrior. There is also another Orc Warrior in the Bloodwind Clan.
Attacks
The Orc Warrior's attacks consist of a run where he bucks his head and charges into players, a spin attack, and an earthquake that players must jump to avoid or they will take damage. The version of Orc Warrior found as a normal monster does not use the running attack perhaps because of the loss of the helmet. He can be a tough boss to newer players.
For newer players, note that there is a Jump Warning. This means the boss will use an attack that usually causes an earthquake with indefinite range. As the name implies, Jump!
Gallery
Appearances
Community content is available under
CC-BY-SA
unless otherwise noted.