Description
"The Boxer who never gave up."
Main Info
Name: Pepe
Age: 26
Hobbies: Punching sandbag
Likes: Boxing
Dislikes: Kyle, hot pot
"K, killer Kyle..."
Pepe dropped his head. After a long time of living abroad, Pepe had returned to his hometown only to find no one there to greet him. Everyone that he knew had lost their lives to the killer, Kyle. Sadness and anger enveloped him. More than anything he resented himself for being powerless and not able to do anything against the killer Kyle. And with that Pepe continued to spend his days in sadness. 
"Are you Pepe?"
One day, a raccoon who introduced himself as Rocco spoke to Pepe. For what reason would a raccoon speak to a mushroom?
"Do you want to get revenge on killer Kyle?"
At the sound of Kyle's name, flames rose in Pepe's, once, dead eyes. Kyle! He would give anything to be able to get revenge on killer Kyle. 
"So how about it? How about joining me? With my coaching, I'll have you become the country's best box... No the world's best athlete." 
"I will bum it all down for a chance to get my revenge!"
From then on, Pepe started his fiery training with Rocco.
Acquisition
Adventure: Abbey Zone Dungeon Clear Reward.
Shop: Can be purchased in Prana Shop.
Fusing Heroes: Acquire randomly via Hero Fusion.
Treasure Chest: Can be acquired from a Treasure Chest.
Shop: Can be acquired from Summon Shop.
Attributes
| | Max Health | Physical Attack | Physical Defense | Magic Defense |
| --- | --- | --- | --- | --- |
| Base | 7026 | 2843 | 1472 | 803 |
| +12 | 10900 | 4411 | 2283 | 1246 |
| Max | 14637 | 5923 | 3066 | 1673 |
Skills
ACTIVE
Skill Icon
Name
SP
Cooldown
Description
Straight Blow
2
15 sec(s)
"Charge enemy and attack"

Quickly charge towards the enemy and use a powerful strike attack to deal with 246% of physical attack damage.

Combination Blow
1
15 sec(s)
"Attack the enemy in front and increase the damage they receive"

Punch the enemy in front of you 4 times consecutively to deal 120% of physical attack damage and the damage that the target receives increases by 10% for 5 seconds.

PASSIVE
Lucky Punch
N/A
N/A
"When attacking, a chance to double the attack"

When using basic attacks, a 25% chance to activate an attack that is twice as strong. When a skill is used, a 50% chance to activate an attack that is twice as strong.
Evolution
3★
4★
5★
6★
Battle Mushroom
전투 버섯
Battle Mushroom
전투 버섯
Challenger
도전자
Boxer's Spirit
근성의 복서
Base
x2
x5
x20
Recommended Sets
Recommended Accessories
Recommended Traits
DISCLAIMER: These sets of equipment are purely based on the varying opinions in the Grand Chase community. Recommendations will always change as the game expands. This section only serves as a model for others to consider and players are encouraged to customize their build.
Collections
Abbey Forest
When the people living in the forest near the Abbey hear Kyle's name, they grind their teeth. Kyle... What kind of life are you living...?

4★ Pepe

6★ Rocco

6★ Mandragora
Completion Reward: x250
Huh? It's Human?!
After evolving them, they became human!

6★ Pepe

6★ Balzac

6★ Rares
Completion Reward: x300
As a boss
Pepe can be fought as a mini-boss in Act 1.3: Where the Meteor Falls.
Attacks
Pepe utilizes the same attacks he has as a playable character.
Trivia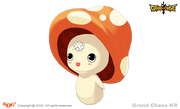 Pepe's character portrait is based on his first stage evolution, Challenger.
A more gentle Pepe exists in Aernas and can be acquired as a pet in the original game.

When evolved, however, he becomes Chaos Pepe which resembles the Kricktria version.

Even when they show intelligence as close to humans, it seems that the consumption of Pepe's kind is "normal" in the Grand Chase universe.
Gallery
Main article: Grand Chase Dimensional Chaser/Gallery
Videos
Sprites
Quotes
Voice-over
"To be an exceptional athlete, efforts must not be spared."
Speech Balloons
"This too, is a type of training. I will not avoid it!"
"The result of today's training is very good."
"Let's quickly start the upgrade training!"
"Let's quickly start the evolution training!"
"Let's quickly start the awakening training!"
"Hurry and Prestige me!"
"Hurry and select my Trait!"
References
Rank A


Kyle

Cindy

Pepe

Rocco

Carnero

Mandragora

Carbon

Padre Ram

Lilia

Dmitri

Dolly

Duchi

Viola

Navarus

Rose

Lydia

Erednay

Henry

Dr. Merken

Nicholas

Sai

Stavrogin

Captain Claw

Mamin

Hekar

Porch

Rares

Shasha

Fennel

Big Imp

Charlotte

Coco

Negia

Osiris

Marjoram

Hanaru

Nymphyr

Ponya

Kaiga

Swen

Urca

Husky

Big Al
Community content is available under
CC-BY-SA
unless otherwise noted.