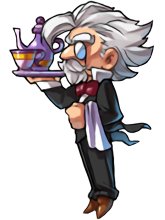 The Prime Knight's Butler is a lower armor accessory. It is a timed accessory given to players who unlock the Prime Knight job for Sieghart.
Description
"Meet Alfredo, the butler who cleans up after the Prime Knight and keeps his attitude in check!"
Stats
Level Requirement: 20
Attack: 54
Defense: 81
Vitality: 0
Trivia
Interestingly, Dio's butler Alfred has a striking resemblance to Alfredo. Whether this was intentional or not is unknown.
References