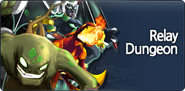 The Relay Dungeon is a hosted event that allows characters to fight all the bosses on the said continent (in order). Currently, only Bermesiah, Ellia, Silver Land, and Xenia possess this dungeon.
The dungeon itself is marked by a flaming skull on the map, which only accepts 1 star (thus making all bosses "1 star" like). However, there are "chests" granted after beating a boss, which cough up special rewards.
The following are noted in Relay:
All dungeon difficulties are 1 star.
All bosses contain their usual drops.
All bosses have the same stats from their specified dungeon and cannot be changed in any way.
Bosses are refrained from using minions. They can actually attempt to summon, but nothing will occur.
There is no dialogue (within the exception where Victor is battled, Ashtaroth summons his pet Mynos and when Thanatos transforms).
Bosses are technically not killed in their specified dungeon, and therefore, do not count as a quest kill.

| | 1 | | 3 | 4 | 5 | | | | | | |
| --- | --- | --- | --- | --- | --- | --- | --- | --- | --- | --- | --- |
| A | | | | | | | | | | | |
| | | | | | | | | | | | |
| C | | | | | | | | | | | |
| D | | | | | | | | | | | |
| E | | | | | | | | | | | |
| | | | | | | | | | | | |
| G | | | | | | | | | | | |
| | | | | | | | | | | | |
| | | | | | | | | | | | |
| | | | | | | | | | | | |
| | | | | | | | | | | | |
| | 1 | | 3 | 4 | 5 | | | | | | |
| --- | --- | --- | --- | --- | --- | --- | --- | --- | --- | --- | --- |
| A | | | | | | | | | | | |
| B | | | | | | | | | | | |
| C | | | | | | | | | | | |
| D | | | | | | | | | | | |
| E | | | | | | | | | | | |
| | | | | | | | | | | | |
| | | | | | | | | | | | |
| | | | | | | | | | | | |
| | | | | | | | | | | | |
| | | | | | | | | | | | |
| | | | | | | | | | | | |
| | 1 | 2 | 3 | 4 | 5 | 6 | 7 | | | | |
| --- | --- | --- | --- | --- | --- | --- | --- | --- | --- | --- | --- |
| A | | | | | | | | | | | |
| | | | | | | | | | | | |
| C | | | | | | | | | | | |
| D | | | | | | | | | | | |
| E | | | | | | | | | | | |
| | | | | | | | | | | | |
| | | | | | | | | | | | |
| | | | | | | | | | | | |
| | | | | | | | | | | | |
| | | | | | | | | | | | |
| | | | | | | | | | | | |
| | 1 | 2 | 3 | 4 | 5 | 6 | 7 | | | | |
| --- | --- | --- | --- | --- | --- | --- | --- | --- | --- | --- | --- |
| A | | | | | | | | | | | |
| B | | | | | | | | | | | |
| C | | | | | | | | | | | |
| | | | | | | | | | | | |
| E | | | | | | | | | | | |
| | | | | | | | | | | | |
| | | | | | | | | | | | |
| | | | | | | | | | | | |
| | | | | | | | | | | | |
| | | | | | | | | | | | |
| | | | | | | | | | | | |