The
Ringmaster
(also known as 
Zidler
or
Circus Master
in foreign servers) is the normal boss of the
Nightmare Circus
. He rides upon a large, bouncy toy horse with a gatling gun in its mouth that the Ringmaster uses to attack with.
If players have a Golden Stage Ticket, defeating the Ringmaster will cause him to transform into the Deranged Ringmaster.
Attacks
The Ringmaster has a few attacks using the red horse he rides and is capable of summoning one Juggler by throwing a bomb. The Ringmaster can use the Gatling gun in the horse's mouth to rapidly shoot at players in front of him. He can also cause a Jump attack with no warning that will either knock players into the air or create an area of poisonous green gas that drains players' health and gives them the Haste status. He can also slash twice with his baton.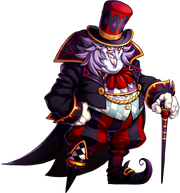 Trivia
Community content is available under
CC-BY-SA
unless otherwise noted.