Rocco is a raccoon pet obtained during the third Refer-a-Friend event. Eighty of his leaf are required which can be collected when a new player levels up from 1 to 35 while also granting them to the referrers, or by logging in and checking attendance.
Background
There is nothing else known about Rocco other than being a companion of Ryan.
Story
Though not mentioned in the story, Rocco appeared in a few promotional artworks. He made his debut as an NPC in Grand Chase Dimensional Chaser.
in Grand Chase Dimensional Chaser
Attacks
Rocco carries a leaf blade that he uses to attack by spinning it around forward. As a pet, his attack is called Rocco's Fury.
Stats
Level Requirement: 0
Attack: 20
Defense: 20
Vitality: 20
Trivia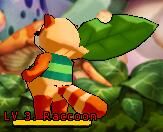 Before he was readded as a pet in Season 3, Rocco can be fought as the Raccoon monster in Trial Forest.
Gallery
References