Rocco's Tornado
or
Rocco's Spin to Win
is a Grand Chase
Mini Game
.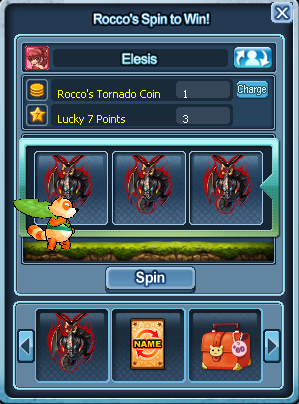 It can be found at the Mini Games tab in the Menu. The Mini Game is available only during certain periods.
How to play
Edit
The player must have 1 Rocco's Tornado Coin in order to play. Usually players receive 1 coin when the log in the game. Another way to get the coins is to buy them from the Cash Shop.
Basically, the player must click "Spin" and let the wheel spin. They can stop the wheel spinning by pressing "Stop", but this only skips the animation. If all the three items inside the wheel matches, they the player is awared of that specific item. Note that some items are restricted to the selected character.
If the item does not match, the player gets a Lucky 7 Point and some compensation item such as a Mystery Potion (L). If the player has seven Lucky 7 Points, he will be rewarded with a free spin. In the last section, with the right and left arrow, players are able to check what item the mini game may yield.
Rewards vary on events, but these in the list are usually present in each mini game event period.
•    Random Prop Reset Form
•    Xenia's Precious Pearl
•    Silver Land's Precious Pearl
•    Fusion Coupon
•    Ring of Beefiness
•    GC Club
•    Socket Gem
•    +10 Bag
•    Skill Key
•    SP Reset Card
•    +30 Bag
•    +60 Bag
•    Nickname Change Card
•    Weapon Change Key
•    10 + 2 Random Prop Reset Form
This is not technically considered a mini game, since the player just click a button once or twice, but is still under the mini games tab.