Description
"Unstoppable Tyrant of the Forest."
Main Info
Name: Rocco
Age: 16
Hobbies: Appreciation of bad comics
Likes: Manhood
Dislikes: Kyle
"What? To Kyle, again...?"
As he covered the injured area, he looked up at his crying subordinates and could not help but get angry. Until recently, the Forest was a peaceful place under his control. However, Kyle, the invader appeared and destroyed that peace.
"Rocco, sir! You must make a decision. We can no longer sit and watch."
Just like there could not be two suns in the sky, a fight with Kyle could no longer be avoided. Rocco decided that it was time to prove who the true owner of the Forest was.
"I will personally challenge him to a fight between youths!"
And just like that, Rocco delivered a letter of challenge to Kyle. On the day of the fight, Rocco arrived early at the promised location and waited nervously for Kyle. However...
"Argh! Why isn't he here yet?"
Despite many hours of passing, Kyle still had not appeared. Could it be that he ran away because he was scared? No. He was not that much of a coward. With those thoughts, Rocco continued to wait... And then, Kyle arrived... six hours after the promised time.
"Ah, sorry. I forgot"
Kyle spoke as he lazily walked over yawning. Seeing this, Rocco became swept up in anger. However, after thinking for a moment, a thought struck him. Could this possibly be a trick? What a frightening man. Purposely coming later than the promised time to emotionally rattle his opponent...
"Do you think I will fall for such a cheap trick?"
With his emotions settled, Rocco ran in for an attack. And then...
That day the owner of the Forest changed.
Acquisition
Adventure: Abbey Zone Dungeon Clear Reward.
Shop: Can be purchased in Prana Shop.
Fusing Heroes: Acquire randomly via Hero Fusion.
Treasure Chest: Can be acquired from a Treasure Chest.
Shop: Can be acquired from Summon Shop.
Attributes
| | Max Health | Physical Attack | Physical Defense | Magic Defense |
| --- | --- | --- | --- | --- |
| Base | 7528 | 1672 | 1421 | 1924 |
| +12 | 11679 | 2594 | 2205 | 2985 |
| Max | 15683 | 3484 | 2962 | 4008 |
Skills
ACTIVE
Skill Icon
Name
SP
Cooldown
Description
A Man's Spirit
1
20 sec(s)
"Create a shield for allies"

For 3 seconds, create a shield for allies that is 40% of your maximum HP.

Leaf Tornado
2
18 sec(s)
"Spin while charging to attack the enemy"

Spin while using a large leaf to deal 246% of physical attack damage to nearby enemies and for 5 seconds, weaken their basic attack by 20%.

PASSIVE
A Man's Charm
N/A
N/A
"When attacking, a chance to provoke the enemy"

To targets that are hit by his attacks, Rocco has a 10% chance to provoke them into attacking him for 5 seconds.
Evolution
3★
4★
5★
6★
Manly
사나이
Manly
사나이
Spirited
근성의
Forest Tyrant
숲의 폭군
Base
x2
x5
x20
Recommended Sets
Recommended Accessories
Recommended Traits
DISCLAIMER: These sets of equipment are purely based on the varying opinions in the Grand Chase community. Recommendations will always change as the game expands. This section only serves as a model for others to consider and players are encouraged to customize their build.
Collections
Abbey Forest
When the people living in the forest near the Abbey hear Kyle's name, they grind their teeth. Kyle... What kind of life are you living...?

4★ Pepe

6★ Rocco

6★ Mandragora
Completion Reward: x250
As a boss
Rocco can be fought as a mini-boss in Act 1.3: Where the Meteor Falls.
Attacks
Rocco utilizes the same attacks he has as a playable character.
Trivia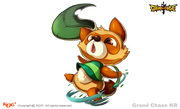 Rocco's character portrait is based on his final stage evolution, Forest Tyrant.
A more gentle Rocco exists in Aernas and can be acquired as a pet in the original game.
Gallery
Main article: Grand Chase Dimensional Chaser/Gallery
Videos
Sprites
Quotes
Voice-over
"Let me introduce myself! I'm Rocco and I enjoy getting involved in other people's businesses."
"The jolting of my heart! Is bringing the heat! And my blood is pumping to my heartbeat!"
"Rock, Paper, Scissors is not a game of chance! It's a ritual that shows how much your heart wants victory!"
"Your face looks like it wants to ask who I am."
"From today, I will challenge Kyle to a fight between youths!"
"Looks like this is a meeting across time... Kyle!"
---
"From today, I will challenge Kyle. It'll be a battle between two youths!"
Speech Balloons
"Heh! Then I'll be back."
"Being successful is not based on chance. It is the power of how much your heart wants it!"
"Heh. Quickly upgrade me!"
"Heh. Quickly evolve me!"
"Heh. Quickly awaken me!"
"Fufu, hurry and Prestige me!"
"Fufu, hurry and select my Trait!"
"Fufu, hurry and Transcendence Awakening me!"
References
Rank A


Kyle

Cindy

Pepe

Rocco

Carnero

Mandragora

Carbon

Padre Ram

Lilia

Dmitri

Dolly

Duchi

Viola

Navarus

Rose

Lydia

Erednay

Henry

Dr. Merken

Nicholas

Sai

Stavrogin

Captain Claw

Mamin

Hekar

Porch

Rares

Shasha

Fennel

Big Imp

Charlotte

Coco

Negia

Osiris

Marjoram

Hanaru

Nymphyr

Ponya

Kaiga

Swen

Urca

Husky

Big Al
Community content is available under
CC-BY-SA
unless otherwise noted.