Description
"The heart-piercing Dark elf Assassin."
Main Info
Elves can be found with various forms throughout each dimension including Aernas. The dark elves are elves that live in the Demon World and they are known for their dark skin and bright colored hair. Their lightweight bodies, dexterity, and affinity to magic make them experts in battle which is similar to other elves. However, that is where the similarities end. What makes them different is that they tend to be very aggressive and cruel and they despise lifeforms other than the ones that exist in the Demon World.
With a personality very typical of a dark elf, Rose has already been in many battles making her a veteran. Currently, as Decanee's subordinate, she is on a special mission in Kricktria. You can find out what her mission is through the story... 
Acquisition
Attributes
| | Vitality | Physical Attack | Physical Defense | Magical Defense |
| --- | --- | --- | --- | --- |
| Base | 4014 | 3847 | 1187 | 686 |
| +12 | 6228 | 5968 | 1842 | 1064 |
| Max | 8363 | 8014 | 2474 | 1429 |
Skills
ACTIVE

Skill Icon

Name

SP

Cooldown

Description

Piercing Arrow

2

15 sec(s)

"Fire a massive penetrating arrow that inflicts great damage"Shot a large penetrating arrow forward that pushes enemies back and deals 307.5% of physical attack damage. Targets hit by 'Piercing Arrow' will be marked by 2 'Scar'.(2-second casting)

Siege Stance

1

16 sec(s)

"For a short duration, the basic attack is upgraded"For 10 seconds, take a 'Siege Stance'. While in 'Siege Stance' range increases by 70% while auto-attacking, also she will shoot arrows that are twice as strong and become immune to abnormal status.

PASSIVE

Scarred Explosion

n/a

n/a

"Deal additional damage to a target that has been hit with a basic attack"Each basic attack that Rose does, leaves a 'Scar'. When 5 'Scar' stack, it will explode and deal great damage and will reduce Rose's skill cooldown by 20%.
Evolution
3★

4★

5★

6★

Dark Fairy
흑요정

Dark Fairy
흑요정

Assassin
자객

Dark Wind
검은바람

Base

x2

x5

x20
Recommended Sets
Recommended Accessories
Recommended Traits
Collections
Bow String

You cannot pull too strong or be too lax.

6★ Lire

6★ Narushi

6★ Rose

6★ Swen

Completion Reward:x450
As a boss
Rose can be fought as a boss in Act 2.9: The Sorcerer's Identity. She reappears as a mini-boss in Epilogue 1.1: Snow-Covered City.
Attacks
Rose utilizes the same attacks she has as a playable character.
Trivia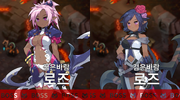 Gallery
Main article: Grand Chase Dimensional Chaser/Gallery
Videos
Sprites
Quotes
References
Rank A


Kyle

Cindy

Pepe

Rocco

Carnero

Mandragora

Carbon

Padre Ram

Lilia

Dmitri

Dolly

Duchi

Viola

Navarus

Rose

Lydia

Erednay

Henry

Dr. Merken

Nicholas

Sai

Stavrogin

Captain Claw

Mamin

Hekar

Porch

Rares

Shasha

Fennel

Big Imp

Charlotte

Coco

Negia

Osiris

Marjoram

Hanaru

Nymphyr

Ponya

Kaiga

Swen

Urca

Husky

Big Al
Community content is available under
CC-BY-SA
unless otherwise noted.