— GRAND CHASE —


ELESIS

LIRE

ARME

LASS

RYAN

RONAN

AMY

JIN

SIEGHART

MARI

DIO

ZERO

LEY

RUFUS

RIN

ASIN

LIME

EDEL

VEIGAS

UNO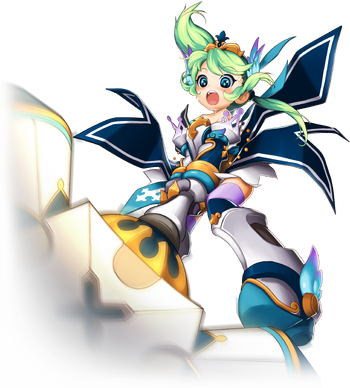 After being rescued from the desert by the members of the Grand Chase, Lime learns that the demon invasions are connected with Ashtaroth, and joins the Chase to defeat the evil entity.
As Lime travels with the Chase and deals with the increasingly powerful forces of evil, she realizes her current powers are not enough to impose justice upon her enemies. To deal with the problem, she turns to her senior Grand Chase members whom she respects a great deal and asks/nags/begs them to train her. As a result, she learns to use different new auras and battling techniques, becoming a Saint.
Requirements
Edit
It is necessary to be level twenty (20) to be able to participate in Second (2nd) Job Promotion.
(Cost 200 GP)
Run the Marsh of Oblivion once. Even if you don't successfully pass the dungeon, you'll still complete the mission.

Entering the dungeon and leaving immediately does not count as "running". It only counts if the dungeon is completed or failed.
Slay 100 monsters within the range of ± 2 above or below level monsters.
(Cost 6500 Cash)
Game Start
| | | |
| --- | --- | --- |
| | | "In justice's name, I've come to deliver your punishment." |
Skills
Taunt
| | | |
| --- | --- | --- |
| | | "Please! Just accept your punishment with decorum." |
Game End
| | | |
| --- | --- | --- |
| | | "How is that? That was an example of justice's power." |
See Saint Skill Tree
| Level/Type | Name | Effect |
| --- | --- | --- |
| LVL 1 Basic | Oracle | Lime summons a orb which she hits with her hammer, spreading it into three and sending them forward. In dungeon, Monsters struck by the skill will receive damage over time, while players struck in PvP will have their jump height reduced. |
| LVL 2 Basic | Nemesis | Lime points her hand toward the sky in order to summon a holy cross that targets and smithes enemies with lightning from above. Only 3 holy crosses can be summoned above different enemies at once. If no enemy is in range, the holy cross will just strike forward. |
| LVL 3 Basic | Holy Smash | Lime enchants her hammer with holy power, making it huge. Then she smashes the ground, causing a wide-ranged earthquake. |
| LVL 4 Special | | Lime invokes all of her holy power, causing an explosion and ensuring the possibility of resurrection to close allies. |
| LVL 4 Special | Liberation | Lime throws her gavel upwards, turning it into a golden hammer that releases a gold shockwave in each direction upon its impact with the ground. |
Saint is also known as Templar or Crusader.