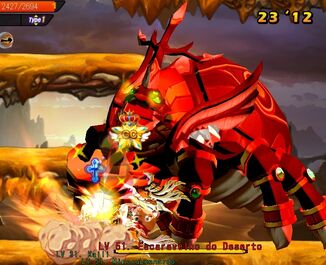 The Sand Ruler is the Boss of the Sands of Illusion. It is also in possession of a fragment of the Crown of Sands.
Attacks
Four. It can use its horn to push enemies upward, it can create a powerful gust utilizing its wings on the side, and it may use a charge attack. One unusual ability is when it can spawn numerous of its young.
It has two Sand Dinergates guarding it, but it won't summon replacements if they die.
Trivia
Community content is available under
CC-BY-SA
unless otherwise noted.