Sataniel's Warrior (or Devil's Warrior) is a monster found at the Fortress of Ascension. It is a large, gray faun, and wields an ax.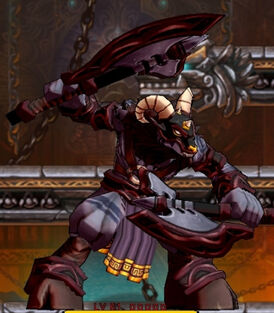 Attacks
It has an arsenal of three attacks. Firstly, it can throw it's ax, damaging players in the ax's path. Secondly, it can spin like a windmill and cause heavy damage to players within the vicinity. Lastly, it can swing it's ax downward, causing players to be hit to be flung up and sent down. It also has a block skill, similar to the Aegis Knight's.
Trivia
The word "Sataniel" is another name for "Devil". Therefore, it can be called Devil's Warrior.
Interestingly enough, despite that Gardosen is considered a "Satan", none of these actually guard him.
Community content is available under
CC-BY-SA
unless otherwise noted.