— GRAND CHASE —


ELESIS

LIRE

ARME

LASS

RYAN

RONAN

AMY

JIN

SIEGHART

MARI

DIO

ZERO

LEY

RUFUS

RIN

ASIN

LIME

EDEL

VEIGAS

UNO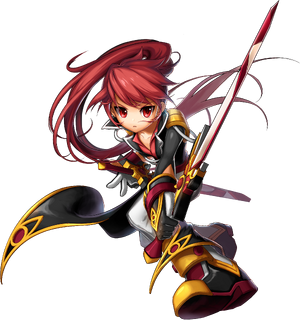 ELESIS




Knight





ST




Spearman




Sword Master




Savior
For her work against the evils of Kaze'aze and Dark Anmon, Elesis is being honored with the title of Savior. The title of Savior is reserved only for the greatest Knights whose skills have transcended those of mere mortals. Not simply a defender against evil, they defend the entire world from evil.
Saviors move very quickly while effortlessly wielding a pair of swords called Ssanggeom. Each sword is an extension of the Savior's arm. Enemies who have confronted Saviors on the battle field know to dread the quick, sweeping strikes of the Savior. Saviors are the ultimate swordsmen who recognize the drawbacks of a single sword and make up for them by carrying two.
Requirements
It is necessary to be level forty (40) to be able to participate in Fourth (4th) Job Promotion.
"This is your first step to becoming a Savior. If you want to become a Savior you need to complete 3 missions. The first step is always difficult, but if it's you, then I'm sure you'll be able to handle it easily."
- Royal Knight Master -
GP Mission
(Cost 18,000 GP)
Part 1
Part 2
Part 3
Part 4
Slay 250 monsters within the range of ± 2 above or below level monsters.
Part 5
Cash Mission
(Costs 11,800 cash)
Quotes
Game Start
Skills
Taunt
Game End
| | | |
| --- | --- | --- |
| | | "You are no match for me!" |
Basic Movements
Keystrokes
Name
Effect
Basic Combo
Elesis swings both her blades downward, then upward, then downward again.
++
Critical Attack
In the middle of her combo, Elesis swings both her blades upward, knocking the target into the air.
++
Double Attack
At the end of her combo, Elesis swings both her blades downward.
++
Jump Attack
Elesis jumps up and swings both her blades downward, one after the other.
+(Hold)++
Jump Attack (Up)
Elesis jumps up and swings both her blades upward, one after the other.
+(Hold)+
Jump Attack (Down)
Elesis jumps up and slams both her swords down to the ground.
Dash
Elesis dashes forward. Holding down the key causes her to run.
+
Air Dash
After jumping, Elesis dashes in midair.
+
Dash Attack
While dashing, Elesis swings her both her blades downward.
+
Backward Step
While dashing, Elesis moves backward. In this state, she gains Hyper Armor and she can pass through obstacles and other opponents.
++
Backward Step Attack
After a Backward Step, Elesis moves forward and swings her blades down.
+
Grab
Elesis impales her opponent's stomach with both blades and throws them.
(Note: Both players are invincible throughout the animation.)
(Note: Only works in PvP; Dungeon monsters cannot be grabbed.)
(Note: Due to lag, it may not work, or may intercept the opponent's attack/skill.)
Skills
| Level/Type | Name | Effect |
| --- | --- | --- |
| LVL 1 Basic | Round Crash | Elesis swings both swords then slams downward. |
| LVL 2 Basic | Fated Circle | Connecting the two ends of her swords together and twirling them, Elesis forms a spinning flame wheel and then throws it. The skill can be finished early by hitting the command. |
| LVL 3 Basic | Chaos Savior | Elesis rapidly spins like a "ballerina of death," then throws energy waves downward. |
| LVL 4 Special | | Elesis jumps up and slams down onto the ground, creating a large violent shockwave that she harvests with her Ssanggeoms. She twists the shockwaves into a whirlwind before sending it at her opponents, trapping them inside the spiraling tornado for 15 seconds. The attack homes in on enemies. |
Trivia
In the Savior Trailer, the in-game name of the character said "4th Elesis", while all other trailers had the in-game name just on either the character or untranslated text.
"Chaos Savior" is voice acted as "Chaos Savior UP".
A "Savior" defines one that dedicates their lives to honor and protect their beloved. However, Elesis has a more aggressive and brutish nature, caring more over the battlefield and less over her companions. These do not carry over a Savior's traits, and therefore, Elesis would technically not be considered as such.

This is further emphasized by the fact that her 3rd MP skill has "Chaos" in its name, meaning complete disorder and confusion, and her 4th MP skill is called "Annihilate/Genocide", meaning utter destruction and mass murder, respectively, all of which are far from something considered protection of someone.
Community content is available under
CC-BY-SA
unless otherwise noted.