— GRAND CHASE —


ELESIS

LIRE

ARME

LASS

RYAN

RONAN

AMY

JIN

SIEGHART

MARI

DIO

ZERO

LEY

RUFUS

RIN

ASIN

LIME

EDEL

VEIGAS

UNO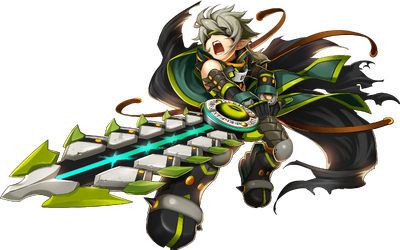 Having made overcoming Duel's incredible strength the sole reason for his existence, Zero ventured until he reached Archimedia and finally encountered Duel at Thunder Hammer. However, Grandark sensed that Duel had become stronger than before and restrained Zero from following him. Clearly seeing just how much Duel's strength overwhelmed his own, Zero began to seek greater power for himself, but began to lose confidence as he continued to compare himself with Duel. As Zero's confidence weakened, Grandark's own influence over Zero's body grew stronger. Grandark was confronted with the danger of Zero's will gradually disappearing and became quite frustrated.
Thus, we have the Seeker: a Zero in pursuit of even greater power that he may take on Duel!
The Seeker (or Craver) is the one who pursues strength surpassing that of Duel's and it is in this state that we now find Zero. As a Seeker, Zero exhibits a far more effective offensive stance by inflicting additional damage when attacking while his newly added command skills give him a greater defensive stance through a stronger base defense, increased HP recovery rate, the ability to dash, and the ability to deflect an enemy's attack.
Requirements

It is necessary to be level twenty (20) to be able to participate in Second (2nd) Job Promotion.
GP Mission
(Cost 300 GP)
Part 1
Run the Marsh of Oblivion once. Even if you don't successfully pass the dungeon, you'll still complete the mission.

Entering the dungeon and leaving immediately does not count as "running". It only counts if the dungeon is completed or failed.
Part 2
Part 3
Part 4
Slay 100 monsters within the range of ± 2 above or below level monsters.
Cash Mission
(Cost 2700 Cash)
Quotes
Game Start
| | | |
| --- | --- | --- |
| | | "Alright... There seems to be no other solution..." |
Skills
Taunt
| | | |
| --- | --- | --- |
| | | "Gran, am I supposed to keep at it?" |
Game End
| | | |
| --- | --- | --- |
| | | "Fighting is the only way to prove myself!" |
Skills
| Level/Type | Name | Effect |
| --- | --- | --- |
| LVL 4 Special | Zero Domain | Zero transforms Grandark and thrusts it to the ground. Grandark pinpoints the location of up to five enemies and attacks in the form of a spiked ball, exploding after the initial damage is done. The attack is similar to Lass's Shadow Vanish. |
| LVL 4 Special | Terminate | Zero transforms Grandark into a long drill, quickly shredding all the opponents in front of him. Zero retains the ability to move and jump after the activation of the skill. This Special resembles Dio's Onrush. |
Trivia