— GRAND CHASE —


ELESIS

LIRE

ARME

LASS

RYAN

RONAN

AMY

JIN

SIEGHART

MARI

DIO

ZERO

LEY

RUFUS

RIN

ASIN

LIME

EDEL

VEIGAS

UNO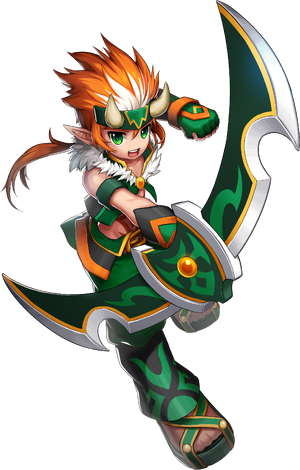 The Sentinel is skilled in infiltration and staying concealed, using a sharp, closely held weapon called a Jade Hook, named for it's moon-like shape. Without being noticed, the sentinel moves on his prey and eliminates any threat to the forest. The sentinel is not an aggressor, but a guardian; a guardian of the forest.
Similar to his first job, as a Sentinel, Ryan can take on an aspect of nature and transform into the Nephilim. When transformed into the Nephilim, Ryan's strength and speed is greatly improved and will make a deadly opponent for any who would dare harm the forest.
Requirements
It is necessary to be level twenty (20) to be able to participate in Second (2nd) Job Promotion.
"Young druid, do you know of the sentinels? Sentinels are protectors of nature who wield Jade Hooks with strength and dexterity. If you are able to pass my test then you too can receive the training necessary to carry these weapons."
- Segesu -
GP
(Cost 200 GP)
Part 1
Run the Marsh of Oblivion once. Even if you don't successfully pass the dungeon, you'll still complete the mission.

Entering the dungeon and leaving immediately does not count as "running". It only counts if the dungeon is completed or failed.
Part 2
Part 3
Part 4
Slay 100 monsters within the range of ± 2 above or below level monsters.
Cash
(Cost 6500 Cash)
Quotes
Game Start
Skills
Taunt
| | | |
| --- | --- | --- |
| | | "Are you the one who is destroying the forest?" |
| | | |
| --- | --- | --- |
| | | "I'll show you the power of the Druid!" |
| | | |
| --- | --- | --- |
| | | "You are kidding, right?" |
Game End
| | | |
| --- | --- | --- |
| | | "Hahahaha! Better luck next time!" |
| | | |
| --- | --- | --- |
| | | "Don't underestimate the power of the Druid!" |
Basic Movements
Keystrokes
Name
Effect
Basic Combo
Ryan swings his jade hook numerous times, then kicks the enemy, followed by two more upward swings.
+
Critical Attack
In the middle of his combo, Ryan spins forward while kicking his enemy twice, throwing him/her upwards.
+
Double Attack
At the end of his combo, Ryan spins forward while kicking his enemy twice, throwing him/her upwards.
+
Jump Attack
Ryan jumps up swings his jade hook twice.
++
Jump Attack (Down)
Ryan jumps up, flips and spins straight down to the ground. He can dash immediately when he lands to the ground with this attack. This attack can be used right after a Jump Attack or a Air Dash Attack.
Dash
Ryan dashes forward. Holding the key causes him to run.
+
Air Dash
After jumping, Ryan dashes in midair.
+
Dash Attack
While dashing, Ryan spins his jade hook upward, throwing the enemy in the air.
++
Air Dash Attack
While air dashing, Ryan spins forward while attacking.
+
Grab
Ryan grabs his opponent then jumps up and strikes with his jade hook.
(Note: Both players are invincible throughout the animation.)
(Note: Only works in PvP; Dungeon monsters cannot be grabbed.)
(Note: Due to lag, it may not work, or may intercept the opponent's attack/skill.)
Skills
| Level/Type | Name | Effect |
| --- | --- | --- |
| LVL 1 Basic | Backspin Slash | Ryan performs two slashes followed by a forward spin attack. The last hit will launch the opponent in the air. |
| LVL 2 Basic | | Generates an aura that damages and sends opponents flying across the battlefield. Super Armored or stationary enemies take more damage as they still linger in the skill's attack radius. |
| LVL 3 Basic | Spinning Phantom | Ryan spirals forward, spinning against the enemy at high speeds. |
| LVL 3 Purchased | | Ryan transforms into the Nephilim. |
| LVL 4 Special | Flying Divider | Ryan launches himself vertically upwards, dealing damage to enemies to stand too close to him. He then vertically crashes down on his enemies a short while later. Where Ryan lands can be controlled with the and buttons. |
Trivia
Despite its name, Backspin Slash involves a forward spin rather than a backwards one.
Before Grand Chase Chaos, the Sentinel was the only class that had to acquire Nephilim's Feathers from Gaikoz as their job advancement, whereas other classes needed to obtain Gaikoz's Seals/Swords.
Community content is available under
CC-BY-SA
unless otherwise noted.