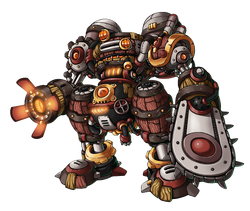 Sentry Keeper No. 2 is a guardian and boss of Under Hammer. In pair with Sentry Keeper No. 1, they try to defend Thunder Hammer. Sentry Keeper No. 2 is more of a melee type.
No. 2 is in a red color, while No. 1 in a green color. 2 also carries a saw.
Attacks
The Sentry Keeper has three attacks. It can swing its large saw at a 360 degree angle, and can shoot bluish orbs which turns into an explosion. The most dangerous attack it possesses when it spews out powerful flames in all directions.
Warning: If you kill Sentry 1, Sentry 2 will become enraged, enhancing its attack and defense power and vise versa.
Trivia
This is the only boss that is paired with another boss, similar to how both Dark Storm and Furious Storm are paired as mini-bosses. Except for when you kill either Dark Storm or Furious Storm one is brought back to full health.
Currently this is the only monster that wields a saw.
It is similar in abilities to the PTX-40A from Lost Planet.
This monster is a robot made out of barrels.
Community content is available under
CC-BY-SA
unless otherwise noted.