— GRAND CHASE —


ELESIS

LIRE

ARME

LASS

RYAN

RONAN

AMY

JIN

SIEGHART

MARI

DIO

ZERO

LEY

RUFUS

RIN

ASIN

LIME

EDEL

VEIGAS

UNO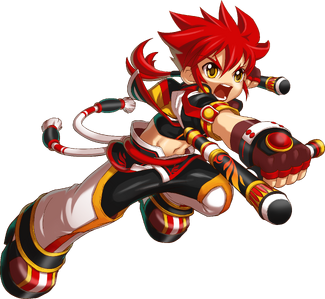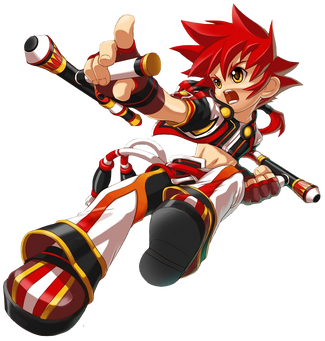 Jin




Fighter





ST




Shisa




Asura




Rama
The Shisa uses a tonfa to augment the already devastating close quarters combat techniques of the Fighter. The Shisa excels at long combos and quick attacks to bring down his enemies.
The Shisa's strength derives from his ability to move about quickly and dodge many attacks. With his high level of mobility the Shisa can quickly maneuver around an enemy and lock him down. Any enemy caught in the Shisa's whirlwind movements will quickly succumb to panic and lose sight of the Shisa. All of this gives the Shisa ample time to strike and quickly retreat to safety. The tonfa are best suited to quick, close quarters combat. Though small, they add to the already devastating power of Jin's fists.
Requirements
It is necessary to be level twenty (20) to be able to participate in Second (2nd) Job Promotion.
"Jin, your mastery of Chi and hand-to-hand combat is still sloppy at best! Now you must face the harsh journey before you become the Shisa. Let nothing make you tremble! Now your journey starts!"
- Shisa Mu's Soul -
GP
(Cost 200 GP)
Part 1
Run the Marsh of Oblivion once. Even if you don't successfully pass the dungeon, you'll still complete the

mission.

Entering the dungeon and leaving immediately does not count as "running". It only counts if the dungeon is completed or failed.
Part 2
Part 3
Part 4
Slay 100 monsters within the range of ± 2 above or below level monsters.
Cash
(Cost 6500 Cash)
Quotes
Game Start
| | | |
| --- | --- | --- |
| | | "A warrior may choose peace. All others are condemned to it!" |
| | | |
| --- | --- | --- |
| | | "Burn! My warrior spirit!" |
Taunt
| | | |
| --- | --- | --- |
| | | "I take it your silence is often mistaken for confusion." |
| | | |
| --- | --- | --- |
| | | "At least attempt to defend yourself." |
Game End
| | | |
| --- | --- | --- |
| | | "It's okay. You haven't seen anything yet." |
| | | |
| --- | --- | --- |
| | | "This victory, will be forever be engraved in my heart." |
Basic Movements
Normal
Keystrokes
Name
Effect
Basic Combo
Jin swings his tonfas numerous times before knocking the target upward.
+
Critical Attack
In the middle of his combo, Jin swings upward, then downward.
+
Double Attack
At the end of his combo, Jin swings upward, then downward.
++
Combo (Up)
In the middle of his combo, Jin swings upward to knock the opponent into the air and kicks them thrice.
+
Jump Attack
Jin jumps up and swings his tonfa.
++
Air Step
Jin jumps up and steps down on his opponent.
Note: This can be ottoshoted, but the maximum consecutive hits is five.
+
Dash
Jin dashes forward. Holding down the key causes him to run.
+
Air Dash
After jumping, Jin dashes in midair.
+
Dash Attack
While dashing, Jin swings downward and then upward.
++
Dragon Kick
While dashing, Jin performs a somersault kick upward, knocking the target into the air.
+
Shadow Dodge
Jin slips behind his target via shadow silhouette.
++
Roll
While dashing, Jin rolls forward.
Chi Charge
Jin charges Chi for his Burning Gauge.
+
Grab
Jin leaps up and performs a triple roundhouse kick to his opponent.
(Note: Both players are invincible throughout the animation.)
(Note: Only works in PvP; Dungeon monsters cannot be grabbed.)
(Note: Due to lag, it may not work, or may intercept the opponent's attack/skill.)
Chi
Keystrokes
Name
Effect
+
Iron Mountain
Jin performs a ramming attack that strikes a distance via chi silhouette.
When used without Chi, no silhouette occurs and Jin simply strikes with his shoulder.
++
Rising Phoenix Strike
While dashing, Jin rolls and strikes thrice with his tonfas.
+
Storm Fist
Jin rushes forward and delivers a punch that knocks the opponent away.
Skills
Normal
Level/Type
Name
Effect
LVL 1 Basic


True Strike Dragon Tail

Jin performs three tonfa swings and ends off with a kick.
LVL 2 Basic


Power Rising

Jin slides forward and deals two punches then creates a large burst in front of him.
LVL 3 Basic


The Glow!

Jin swings his tonfas numerous times, creating a series of explosions, then slides and produces a much larger explosion.
LVL 4 Special

Jin charges a small ball of Chi vacuums nearby enemies and then strikes with a palm. If the palm connects, a large circle of Chi will be summoned around Jin, trapping and dealing large damage over time to the opponent, and at the end the circle explodes, dealing more damage and knocking opponents away.
Note: If the palm attack does not hit anything, the skill will end.
Glitch: If the skill's final explosion hits a monster, they may keep spinning even after they lose all their HP, making it impossible to kill and proceed further into the dungeon.
Burning
| Level/Type | Name | Effect |
| --- | --- | --- |
| LVL 1 Burning | Burning True Strike Dragon Tail | Jin rears back before kicking, and the skill is slower. There is no notable change ind amage. |
| LVL 2 Burning | Burning Power Rising | The two punches are replaced with a series of tonfa swings. |
| LVL 3 Burning | Burning The Glow! | The skill's damage is increased, the slide is replaced with a forward charge and the explosion strikes all around Jin and is much larger. |
Trivia
Shisa is also known as Champion, Master or Taesacha.
Shisa was never given a trailer. Furthermore, future trailers for characters and classes in the North American server were no longer produced after Shisa was released.
According to Bingo, the words "Shisa" and "Tonfa" originated form the real-life continent of Japan.
Community content is available under
CC-BY-SA
unless otherwise noted.