Description
"Kanavan's master gladiator."
Main Info
Name: Ercnard[3] Sieghart
Age: Approximately 600 years old.
Likes: Relaxation; being pampered by his servants, teasing his descendants and his friends.[1]
Weaknesses: Being teased about his age.[1]
Sieghart was a master Gladiator of Kanavan long, long ago. His name was legendary and his feats in battle have been recounted in history books. At one time, he alone staved off an assault of 100 goblins, a story told to children of even the smallest villages. He rejected all titles and awards bestowed upon him by nobility and left the knighthood to seek his own goals. While on his journey, he came upon the ruins of an ancient city and disappeared. After a year had passed, he was given up for dead and the entire kingdom mourned the passing of the legendary hero.
Hundreds of years have now passed, and rumors of a new knight appearing in the Bermesiah Empire were spreading across the continents. The man claimed to be the long lost hero, Sieghart, and presented himself at the capital of Kanavan.
While traveling through the ancient relics of the long-gone empire, he was attacked by a great demon and put into a near death state. Seeing his state, the Highlander gods revived him and trained him with their warriors making him an immortal. He has now left to join the Grand Chase.
As the Ascendant God and his evil followers assault the Bermesiah Empire, his resolve is stronger than ever.
Personality
With genius abilities, Sieghart is arrogant and lazy. However, he is a responsible person during combat.
Special Ability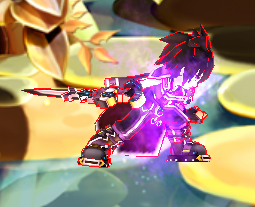 Rage Bar
Sieghart's Rage is similar to Jin's Burning. They both require charging and may be activated to temporarily give the character enhanced stats. However, the method of charging and the bonuses given are different.
When not in Rage Mode, Sieghart's Rage bar fills up on its own (45 seconds for Prime Knight, 30 seconds for others), by attacking (Dungeon only; does not work in PvP), or by getting attacked. However, using skills can halt the bar for its duration.
When the Rage bar is filled to at least the length of around two full MP bars, the

command can trigger his Rage Mode, surrounding him in an aura of darkness. While in this state, Sieghart gains super armor (resistance to stun and knockdown), increased speed, increased damage (x1.1), altered defense (increased damage taken for Prime Knight, reduced damage taken for others) and altered/enhanced skills. Also, the Rage Bar continuously drains, but using skills will temporarily halt the draining. When fully charged, Rage Mode lasts approximately 5.6 seconds, whilst for Prime Knight it lasts 10.
Animation wise, Gladiator and Warlord have to bend down to "pick up" the rage, while Duelist and Prime Knight just shouts it on. Prime Knight's also causes a shockwave effect to nearby foes. Sieghart is invincible during the animation, but the Rage gauge will continue to drain.
Only the Duelist, Prime Knight and Gladiator Skill Tree get moves that consume Rage, and only the Prime Knight has a move that consumes Rage even in Rage mode.
Unlocking
Sieghart can be unlocked by purchasing a Mission scroll from the shop and completing its objectives.
Note: In the Korean server of Grand Chase, Sieghart does not need to be unlocked.
"Sieghart, the legendary Gladiator of Kanavan, has returned as an immortal. However, his attitude makes it hard for anyone to befriend him. Prove your skills to Sieghart to make him join you!"
References