Sieghart is a family from the Kanavan Kingdom. Famed as the "Gladiators of Kanavan", most of the family members are known to be skilled in swordsmanship.
Known Members
Elrenius Sieghart
Elrenius Sieghart is the first known ancestor of the whole clan of Sieghart. He was an assault commander, well-known among Kounat soldiers, who had always led the charge on the frontlines even though he was neither Highlander nor immortal. Described by Kanavan as very stubborn and a single-minded idiot, Elrenius refused all titles of nobility and promotions himself and insisted he belonged on the battlefield.
Eckhart Sieghart
Eckhart Sieghart is the first known leader of the Ruby Knights. Briefly mentioned in the chronological table of Grand Chase history, it is said that he rejected the top position given to him by King Kanavan and left the palace to lead the Ruby Knights.[1]
Ercnard Sieghart
Ercnard Sieghart is the 35th successor of the Sieghart lineage and once famed as the Legendary Swordsman of Kanavan before his sudden disappearance. Hundreds of years after, he came back to the kingdom as an immortal bearing the name "Sieghart".
Elscud Sieghart
Elscud Sieghart is Elesis' father and was a former leader of the Ruby Knights who left the kingdom to join the Kanavan Trackers in pursuit of Kaze'aze but never returned.
Penelope Sieghart
Penelope Sieghart is Elesis' mother. Currently, nothing is known about her and was only mentioned in the Sieghart family tree from an update post published by KOG on the Naver blog.
Elesis Sieghart
Elesis Sieghart is the recent captain of the Ruby Knights and Elscud's eldest daughter. She joined the Grand Chase in hopes of finding her father after the Kanavan Trackers disappeared.
Elsword Sieghart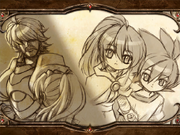 Elsword Sieghart is Elesis' younger brother. Much like his sister who was added in ELSWORD both in lore (initially named as Elsa) and eventually as a playable character, his likeness is quite similar to the game's titular character. In Grand Chase, however, nothing much is known about him as he was only mentioned in the Sieghart family tree from an update post published by KOG on the Naver blog.

Trivia
The Sieghart family is by far the clan with most members identified in the entire series.
Gallery
References